About the Program Director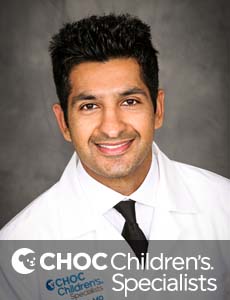 Dr. Himala Kashmiri is the program director for the UC Irvine-CHOC Pediatric Endocrinology fellowship program. Dr. Kashmiri completed his undergraduate training at University of Texas at Austin and then attended medical school at University of North Texas Health Science Center.  He went onto complete his pediatric residency at the Ronald McDonald Children's Hospital in Maywood, IL and then his fellowship in Diabetes and Endocrinology at the Medical College of Wisconsin (Milwaukee, WI).  In addition to his general Endocrine and Diabetes practice, he also leads the Thyroid Cancer clinic and Disorders of Sex Development clinic.  In his spare time, he enjoys fitness, basketball, traveling, and spending time with his family.
University of California, Irvine
UCI provides extensive, high quality education and clinical training, with 560 full-time faculty members and more than 1300 volunteer faculty members from 26 clinical departments. UCI sponsors a multitude of innovative and highly productive research programs. In addition to its adult programs, UCI serves as the sponsor for residencies in Pediatrics, Child Neurology, Combined Pediatrics/Anesthesia, and Medical Genetics, as well as fellowships in Neonatal/Perinatal Medicine, Pediatric Pulmonology, Pediatric Critical Care, Pediatric Infectious Disease, Pediatric Urology, Child and Adolescent Psychiatry.
Read more about UCI Graduate Medical Education…

Children's Hospital of Orange County
CHOC is an academic, community-based hospital that serves as the main site for training in the fellowship. It has 334 beds, including a 30-bed PICU, 12-bed Cardiac ICU, 72-bed NICU and separate Oncology and Neuroscience units. In 2016-2017, there were 12,891 hospital discharges with 89,791 ED visits and 4,252 transports to CHOC. CHOC's ED is a Level II pediatric trauma center. CHOC also operates primary care and specialty clinics throughout the county. The hospital serves about 2 million patients over 4 counties. The training and education of medical students, residents and fellows has been a longstanding focus of CHOC. Each year, CHOC trains about 290 residents and fellows from 38 different training programs, along with 190 medical students.
CHOC has an active Innovation Institute. The Sharon Disney Lund Medical Intelligence and Innovation Institute (MI3) at CHOC Children's is a unique and first-of-its-kind institute that creates, focuses and executes projects in the areas of intelligence and innovation in pediatric medicine. These two interrelated disciplines, extremely limited in development in the pediatric realm, hold great promise to change the trajectory of pediatric care around the world. MI3 aims to foster robust developments in artificial intelligence methodologies, as well as innovative advances in emerging areas such as genomic medicine, regenerative medicine, robotics, nanotechnology and medical applications/devices. MI3 is dedicated to empowering data intelligence and medical innovation at CHOC Children's and driving innovation leadership in the international pediatrics community. Fellow physicians in our program will be exposed to MI3 and have the opportunity to partake in an innovation project during their training if they choose.