Dr. Nikta Forghani, Pediatric Endocrinology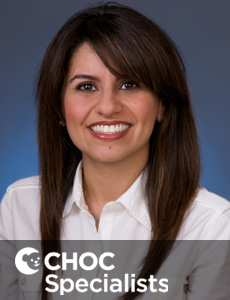 ---
Nikta Forghani MD

Appointments:
888-770-2462
Office: 714-509-8634
Specialty: Endocrinology
Board Certified: Pediatrics, Pediatric Endocrinology
Additional Languages: Farsi, Spanish
Dr. Nikta Forghani's areas of research interest include estrogen replacement therapy in adolescents with ovarian failure and hypothyroxinemia and prematurity. Dr. Forghani is board certified in pediatrics and pediatric endocrinology. She completed her fellowship training in pediatric endocrinology at the Lucile Packard Children's Hospital at Stanford University and she served her internship and residency at Children's Hospital and Research Center in Oakland, California where she was Chief Resident. Dr. Forghani received her medical degree from the University of California at Davis.
Nikta Forghani MD is on staff at CHOC Hospital in Orange .
Locations
CHOC Clinic
1201 W. La Veta Ave. Building: CHOC Clinic
Orange, CA 92868
phone: 714-509-8634
fax: 855-246-2329
CHOC Newport Beach Endocrine and Diabetes Center
520 Superior Ave., Suite 160
Newport Beach, CA 92663
phone: 949-631-2062
fax: 877-390-6590
Education
Medical School
University of California at Davis
Pediatric Endocrinology Fellowship
American Board of Pediatrics
Pediatrics Residency
Children's Hospital and Research Center at Oakland, CA
Academic Appointments
Assistant Clinical Professor
University of California, Irvine, School of Medicine
Administrative Appointments
Endocrinology, CHOC Specialists
Medical Director, Pediatric Diabetes Program at the
Mary and Dick Allen Diabetes Center
Lectures and Presentations
Publications
Forghani N, Wilson, D. Endocrine Emergencies in A Practical Guide to Pediatric Emergency Medicine, edited by NE Wang, J Shandro, A Sohoni and B Fassl, Cambridge: Cambridge University Press, June 2011.
Forghani N, et al., Two new unrelated cases of hereditary 1,25-dihydroxyvitamin D-resistant rickets with alopecia resulting from the same novel nonsense mutation in the vitamin D receptor gene. Journal of Pediatric Endocrinology and Metabolism. April 2010.
Videos