Dr. Amrit Bhangoo, Pediatric Endocrinology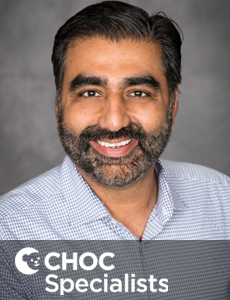 ---
Amrit Bhangoo MD

Appointments:
888-770-2462
Office: 714-509-8634
Specialty: Endocrinology
Board Certified: Pediatrics, Pediatric Endocrinology
Additional Languages: Hindi, Urdu, Punjabi
Dr. Bhangoo is board-certified in general pediatrics and pediatric endocrinology with a decade of experience teaching medical students, pediatric residents, pediatric and adult endocrinology fellows. He is an attending physician and the Director of Research at CHOC Hospital who also serves as Assistant Professor of Pediatrics at The University of California, Irvine. 
Dr. Bhangoo earned his medical degree from India. In the United States, he underwent fellowship and residency training at Maimonides Children's Hospital of Brooklyn, New York. He worked as an attending physician at SUNY Downstate Medical Center, New York, before moving to California. 
Dr. Bhangoo is the author of Noonan Syndrome: Characteristics and Interventions, published in 2019 and has 40 peer-reviewed publications. He has served as a senior editor, contributor, reviewer and as a member on editorial boards for multiple publications including Endocrinology, Diabetes & Metabolism Case Reports, The Journal of Pediatric Endocrinology,  Endocrinology and Metabolic Research, Pediatrics, Clinical Endocrinology, JCEM, Endocrine, European Journal of Endocrinology, Textbook of Pediatric Endocrinology, Pediatric Adrenal Diseases, and Genetic Steroid Disorders.  
Dr. Bhangoo has served on nationally recognized subcommittees such as the Pediatric Endocrine Society Drug and Therapeutics and the Human Growth Foundation.
Dr. Bhangoo has successfully organized two educational endocrine symposia at CHOC Hospital with a full day of Continual Medical Education (CME) activities. 
Amrit Bhangoo MD is on staff at CHOC Hospital in Orange .
Locations
CHOC Clinic
1201 W. La Veta Ave.
Building: CHOC Clinic
Orange, California 92868
phone: 714-509-8634
fax: 855-246-2329
CHOC Newport Beach Endocrine and Diabetes Center
520 Superior Ave., Suite 160
Newport Beach, CA 92663
phone: 949-631-2062
fax: 877-390-6590
CHOC Health Center in Corona
854 Magnolia Ave., Suite 101
Corona, CA 92879
Education
Medical School
Guru Govind Snigh Medical College, India
Pediatric Endocrinology Fellowship
Maimonides Medical Center, Brooklyn, NY
Pediatrics
Residency
Maimonides Medical Center, Brooklyn, NY
Administrative Appointments
Endocrinology, CHOC Specialists
Editorial Boards
Clinical Endocrinology
Endocrine
European Journal of Endocrinology
International Journal of STD & AIDS
Journal of Clinical Endocrinology & Metabolism
Journal of Pediatric Endocrinology & Metab
Journal of Sexual Medicine
Pediatrics International
Pediatrics
Lectures and Presentations
Does Partial Growth Hormone Insensitivity Exist in ISS
Glucocorticoid Resistance Syndrome and Polycystic Ovarian Disease
Isolated micropenis reveals partial androgen insensitivity syndrome confirmed by molecular analysis
The Genetics of Idiopathic Hypogonadotropic Hypogonadism: Unraveling the Biology of Human Sexual Development
Professional Organizations
American Academy of Pediatrics
Publications
SR. King, A Bhangoo, DM Stocco Functional and Physiological Consequences of StAR Deficiency: Role in Lipoid Congenital Adrenal Hyperplasia. Pediatric Adrenal Diseases.Ghizzoni L, Cappa M, Chrousos G, Loche S, Maghnie M (eds): Endocr Dev. Basel, Kerger, 2011, vol 20, pp 47-53.
Rajpoot SK, Maggi C, Bhangoo A. Pseudohypoaldosteronism in a neonate presenting as life-threatening arrhythmia. Endocrinol Diabetes Metab Case Rep. 2014; 130077. doi: 10.1530/EDM-13-0077.
Videos