We know managing your child's medication can be overwhelming. At CHOC, our pharmacists are partners in your child child's care, whether your child is staying in the hospital, needs an outpatient prescription or receiving care for a chronic condition in one of CHOC's specialty clinics.
Our dedicated professionals work together to provide the safest, most effective pharmaceutical care for the children and families receiving care at CHOC.
Our Pharmacies
Inpatient Pharmacy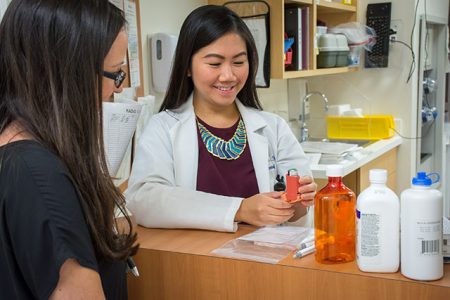 Our Inpatient Pharmacy Department provides 24/7 services to our patients during their hospital stay. The Main Pharmacy provides a variety of quality services, including sterile and non sterile compounding and investigational drug (research) services. Our clinical pharmacists collaborate with all members of the healthcare team, patients and caregivers to provide value based, family centered care. This is provided through participation in interdisciplinary patient care rounds in the Pediatric Intensive Care Unit (ICU), and Cardiovascular ICU, Neonatal ICU, Oncology and Outpatient Infusion Center, and Medical/Surgical Units. Pharmaceutical care services are also provided to the Emergency Department, Peri operative areas, and Mental Health Inpatient Center. The Emergency Department satellite is open 24/7 to serve patients in this area.
Our dedicated professionals work together to provide the best in pharmaceutical care for the patients and their families who receive care at CHOC. The outpatient pharmacy is designed to help meet the medication needs of the patients receiving care from CHOC or through our clinics, as well as pediatric patients being discharged from the hospital.
The CHOC Specialty Pharmacy team of trained pharmacy technicians and clinical pharmacists are dedicated to offer personalized services for pediatric patients receiving specialty medication(s). Our specialty clinical pharmacists are trained in complex diseases and are available whenever you need us to discuss your medications, symptoms, side effects or any questions related to your child's medication therapy.
Pharmacy Residency Program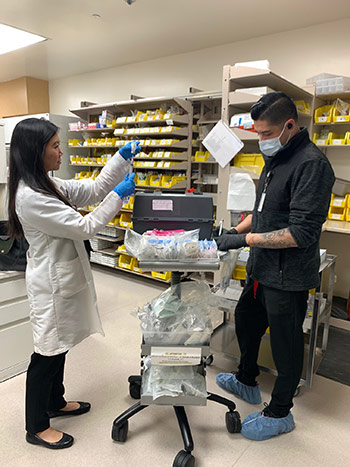 CHOC's ASHP-accredited pharmacy residency aims to foster passionate pediatric pharmacists. For over 10 years, our program has been training residents to become future pediatric pharmacy leaders. The residency is designed to foster clinical expertise in pediatric pharmacotherapeutics, an understanding of the practical and administrative considerations of providing pharmaceutical care to pediatric patients and experience in teaching as well as clinical research.
Location
CHOC Pharmacy

We're located in the Lower Level of the CHOC Clinic.
See Building #2 on the CHOC Campus Map: English | Spanish
  Location: 1201 West La Veta (CHOC West Building) | Orange, CA 92868
  Phone: (714) 509-8856
Hours
Monday – Friday, 9:00 AM – 7:00 PM
Saturday, 9:30 AM – 4:00 PM (Closed 12:30 PM – 1:00 PM for lunch on Saturday only)
Closed Sunday and Holidays