What is hydrocephalus?
Hydrocephalus is a condition in which excessive fluid accumulates in and around the brain. It occurs from a lack of absorption, blockage of flow, or overproduction of the cerebral spinal fluid (CSF) that's made inside the ventricles. The ventricles are fluid-filled areas of the brain. CSF is a clear, watery fluid that disperses from the ventricles to form a cushion around the brain and spinal cord and provide protection from injury. However, too much CSF may result in a buildup of fluid that can cause the pressure inside of the head to increase. In a child, this causes the bones of the skull to expand and separate to a larger-than-normal appearance.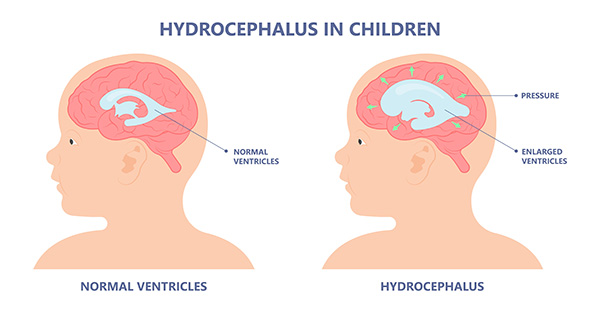 Hydrocephalus symptoms
The following are the most common symptoms of hydrocephalus in babies. However, each baby may experience symptoms differently. Symptoms of hydrocephalus may include:
A full or bulging fontanel (soft spot located on the top of the head)
Increasing head circumference (size)
Seizures
Bulging eyes and an inability of the baby to look upward with the head facing forward
Prominent scalp veins
Increased irritability
High-pitched cry
Poor feeding
Projectile vomiting
Sleepiness or less alert than usual
Developmental delays
Hydrocephalus causes
The imbalance of CSF production and absorption that causes hydrocephalus in children can be due to any of the following:
Blockage. A blockage of the flow of cerebrospinal fluid is the most common problem that causes a CSF imbalance. The blockage can occur from one ventricle to another or from ventricles to other spaces in the brain.
Absorption Issue. The CSF imbalance can less commonly be due to problems absorbing cerebrospinal fluid. Absorption problems are usually a result of inflammation of brain tissue.
Overproduction. Even rarer, overproduction of CSF can cause the imbalance. In these cases, cerebrospinal fluid is produced more quickly than it is absorbed.
Hydrocephalus types
Types of hydrocephalus include congenital, acquired, normal-pressure and ex-vacuo. A person's condition is classified into one of the four types based on how/when the condition develops. The two types of hydrocephalus that primarily occur in children are:
Congenital hydrocephalus: At birth
Hydrocephalus occurs in approximately one out of 500 births. In some babies the condition is genetic, such as in babies with congenital aqueductal stenosis. Other conditions, such as neural tube defects (like spina bifida), are also associated with hydrocephalus.
Acquired hydrocephalus: After birth
Acquired hydrocephalus occurs after the baby is born, usually as a result of injury or illness that affects the brain, such as other neurological conditions. Causes of acquired hydrocephalus in babies may include:
Tumor
Infection
Prematurity
Bleeding inside the head
Birth injury
Abnormal blood vessel formation inside of the head
Trauma