At CHOC, we use special care, advanced technology, and expertise to provide the best ultrasounds for your child. Ultrasound is a safe and painless way to look inside your child's body without using radiation. It uses sound waves to create pictures of organs, muscles, tissues, and blood vessels.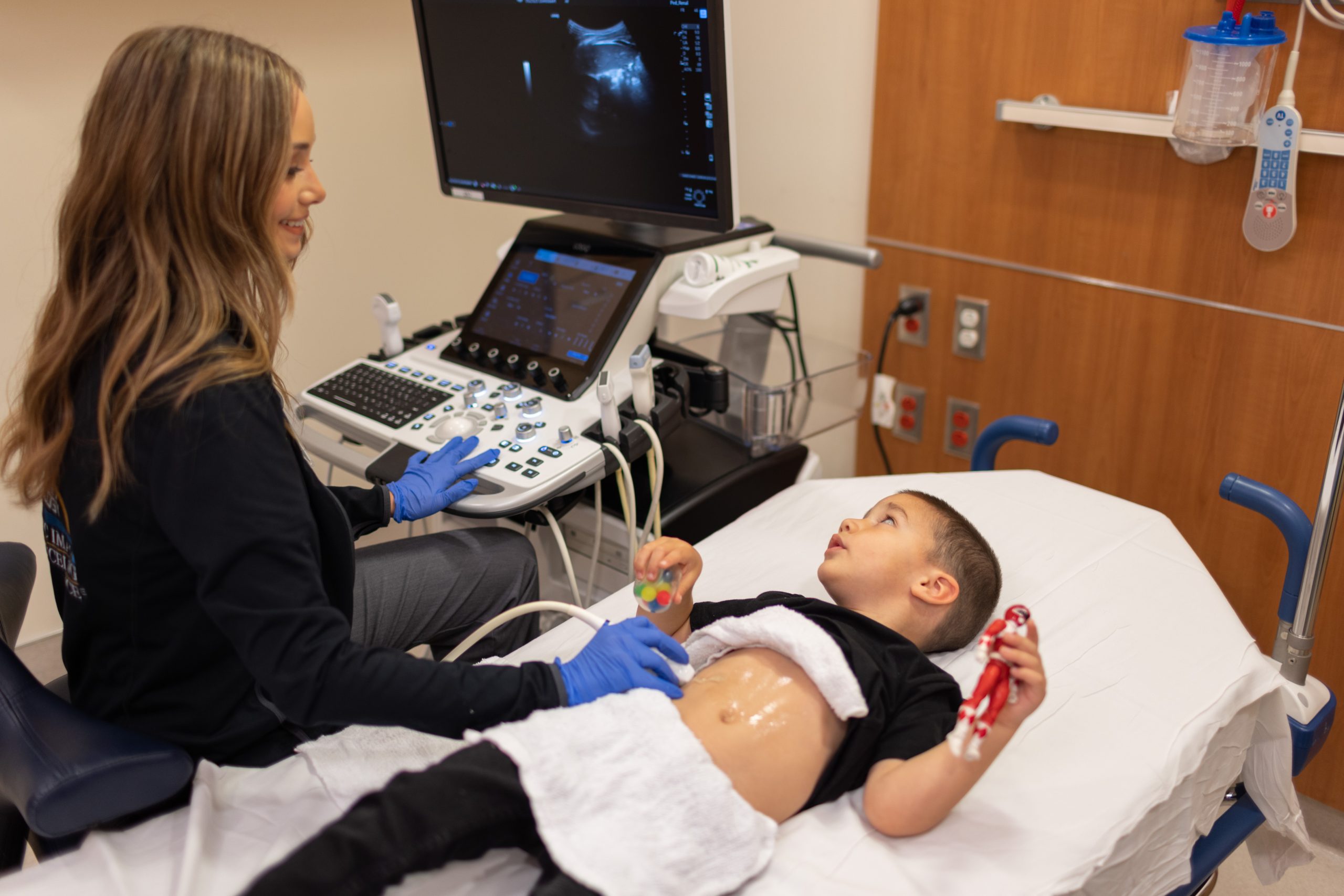 What is an ultrasound?
An ultrasound is a safe and painless test that uses sound waves to take pictures inside the body. During the test, a technologist will put warm gel on the area being examined. Then, they will use a small device called a transducer to send sound waves into the body. These sound waves bounce back and create images of the organs and structures. A radiologist will use these images to diagnose any medical conditions.
When is an ultrasound needed?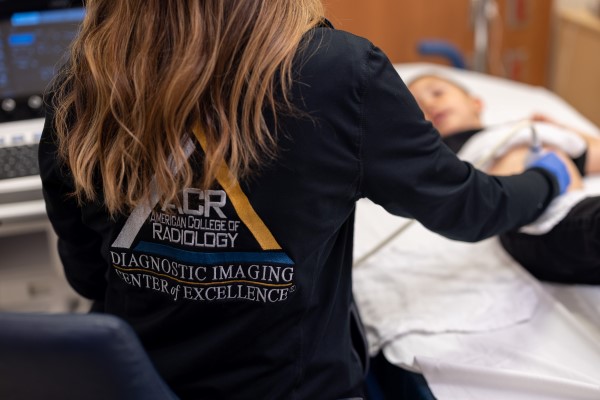 Ultrasound can be used to check:
Abdomen – used to check the organs in the abdomen

Liver
Pancreas
Gallbladder
Kidneys
Spleen

Ultrasound of the abdomen can be done with or without doppler. The Doppler checks blood flow and can check for

Veno-occlusive disease (VOD)
Superior mesenteric artery syndrome (SMA syndrome)
Median arcuate ligament syndrome (MALS)

Liver/Gallbladder – used to check for gallstones and organ enlargement. This can also be done with low-frequency vibrations called Elastography to check for liver stiffness
Intestines – used to check the bowel for Inflammatory bowel disease (IBD), Crohn's disease, intussusception
Appendix – the appendix is often checked when a child has new abdomen pain
Kidneys/Bladder – used to check the kidneys for

Hydronephrosis
vesicoureteral reflux (VUR)
urinary tract infection (UTI)
kidney stones

Ultrasound of the kidneys and bladder can be done with or without doppler. The doppler checks blood flow and can check for

Renal artery stenosis
Renal transplants

Uterus and Ovaries – the uterus and ovaries may be checked when a child has pelvic pain
Testicles – the testicles may be checked when a child has scrotal or testicular pain or trauma
Thyroid/Neck – check the neck for

Enlarged thyroid
Thyroid nodules
Lymph nodes

Doppler – used to see structures within the body while checking blood flow at the same time. Often used for:

Carotids: these are the arteries in the neck
Transcranial doppler (TCD) used to check the blood flow to the brain
Arm and leg veins and arteries

Infant specific exams – cranial (head), hip, spine and pyloric stenosis
Lymphatic and Vascular malformations
Guidance – used to help guide doctors during procedures.
Ultrasound is a very important part of clinical research. Clinical research is a process to find new and better ways to understand, detect, control, and treat health conditions.
How are ultrasounds performed?

During an ultrasound, your child will lie down on a soft table. The technologist will apply a warm gel to the skin and then move a small device called a transducer over the area being examined. The technologist slides the transducer over the area to get ultrasound images. Throughout the exam, the child may need to hold his or her breath at times or lay in different positions. It is important to hold as still as possible. Most ultrasound exams take 30 minutes.
For a full transcript of the video, click here.
Can an ultrasound harm my child?
No, for basic ultrasounds, there are no known harmful effects on humans.
Why Choose CHOC?

CHOC has been designated a Diagnostic Imaging Center of Excellence® (DICOE) by the American College of Radiology (ACR) for best-quality imaging practices and diagnostic care.
CHOC uses only board-certified pediatric radiologists and specially trained pediatric radiology technologists, nurses and child life specialists.
All radiology staff undergo age-specific training annually to learn how to work and communicate with children of varying ages.
We are only one of a few medical centers in the country to have child life specialists working in a dedicated pediatric radiology and imaging department.
Meet Our Ultrasound Director
Specialty: Radiology
Appointments: 888-770-2462
Office: 714-509-9160

Dr. Dao is board certified in radiology by the American Board of Radiology with a certificate of added qualification in pediatric radiology.