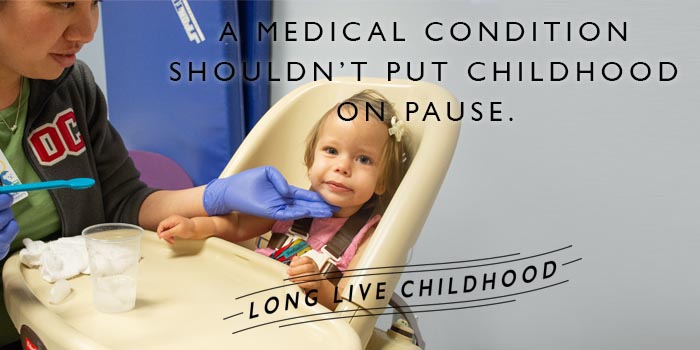 The Rehabilitation Services Department at CHOC is designed especially for children. Using a comprehensive team approach, our physical therapy, occupational therapy and speech and language pathology specialists work together to provide complete care for children of all ages—from premature newborns to young adults.
When a child needs physical, occupational or speech therapy, their needs are very different than those of an adult. The Rehabilitation Services team specializes in pediatric rehabilitation and uses the very latest research-based therapies in one-on-one sessions with patients and their families. All of our therapists have a master's degree or higher and stay up-to-date on the latest trends in their areas of specialty by attending conferences and seminars across the country.
Getting Started
CHOC offers a variety of developmental and functional evaluations that are conducted by licensed physical, occupational and speech therapists. Each evaluation takes about one to two hours to complete. The evaluation is a collaborative process between the patient, parent and therapist, in addressing the child's developmental needs and eligibility for services. Learn more about evaluations and beginning treatment at CHOC.
We offer one of the most comprehensive, state-of-the-art pediatric rehabilitation centers in Southern California.

Click here to view full video transcript.
Our facility is proud to offer:
Two full-service gyms with the latest therapy equipment and an outdoor area.
An indoor, heated pool equipped with a special lift to help patients in and out of the water. Learn more about aquatic therapy.
A Litegait device that assists patients in weight bearing, gait and balance activities as part of prescribed physical therapy.
Sensorimotor equipment, a rockwall and zipline as part of prescribed occupational therapy.
Neuromuscular electrical stimulation used to strengthen and improve a child's ability to swallow. Learn more about neuromuscular electrical stimulation.
A special therapy technique called biofeedback that is used to help patients become aware of bodily processes that they may not realize they are doing. Through this therapy, the child can gain some control over these processes and/or learn to manage them. Learn more about biofeedback.
A type of therapy called therapeutic listening that uses music to affect changes at all levels in children with sensory processing dysfunction, as well as those with listening, attention and communication delays or problems. Learn more about therapeutic listening.
Physical agent modalities including heat, cold and ultrasound to help with pain relief, decreased inflammation and increase flexibility.
Resources for Patients and Families
It is common to have a lot of questions upon finding out a child need rehabilitation therapy. This comprehensive collection of frequently asked questions and fact sheets may be helpful for families receiving rehabilitation services but should not replace specific instructions or advice provided by a child's medical team.
Why Choose CHOC?
All treatments are specially designed with the child and his or her long-term goals and potential in mind.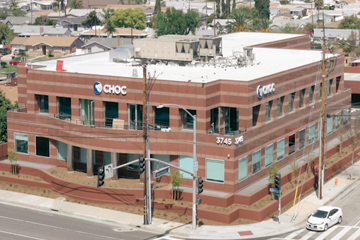 Internship Opportunities
The CHOC Rehabilitation Services Department accepts student internships. Each potential intern undergoes a vigorous interview prior to acceptance. In addition, a contract must also be devised between the university and CHOC prior to the initiation of the internship. Please contact the Rehabilitation Services front desk for more information at (714) 509-4220.