Tracheostomy and Mechanical Ventilation
At CHOC, we care for children with severe lung disease and chronic respiratory failure. Some children require breathing support after they leave the hospital. We help families with children who require mechanical ventilation or have tracheostomy.
Our goal is to help your child reach full respiratory potential. We encourage family participation and work closely with your family members and your child's primary care physician to set goals and provide care. We also work with several home care services to ease the transition from the hospital to the family's home, and assist with ongoing management.
Our program is widely recognized in the community, with many families traveling long distances to CHOC for their child's care. We offer both inpatient and outpatient services to our families.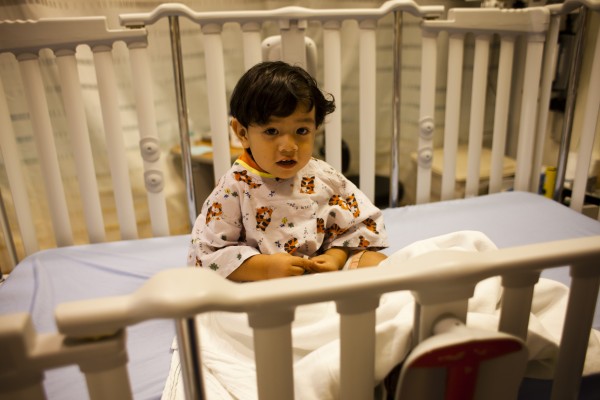 The CHOC Difference
Our tracheostomy RN specialists work with your family. They provide education, understanding and comfort. We are here to help every step of the way.
Every family has direct access to a specialized RN case manager that handles both ventilation and tracheostomy services. This provides better access to our families and better outcomes for our patients.
We provide intensive in-hospital education for all tracheostomy surgery patients and families before discharge. We want to make sure you completely understand how to care for your child before going home.
CHOC pulmonology helps hospitalized children who are dependent on medical technology for breathing assistance transition back to home and school.
CHOC will provide training assistance to your child's school and assigned nurse for school bus rides.
Our pulmonology team follows all tracheostomy patients, in partnership with CHOC otolaryngologists, to provide consistent care and better outcomes.
If your family needs home care, your CHOC case manager will help arrange services. They will work with the home health care agency if there are any questions or follow-up needed. Our team will also communicate and explain any change in the doctor's orders to ensure proper treatment.
We educate and encourage our patients on the use of heat and moisture exchanger (HME) (many hospitals don't recommend or know about HME). HME, also known as an artificial nose, provides natural humidity from inside the body that simulates the nose and reduces infections.
When possible, CHOC offers long-term follow-up care for prevention of acute respiratory illness.
Our doctors always work with our patients to reduce or eliminate ventilator use, as appropriate.
In addition to primary treatment, we offer our patients expert rehabilitation services, psychosocial support, the latest integrative health services, and access to our High-Risk Infant Follow-Up Clinic.
CHOC provides patient- and family-centered care to our patients and families to meet the needs of your child in the best way possible.
We have the most comprehensive child life program in the region.
CHOC is among only 7% hospitals awarded Magnet designation, the highest honor for nursing excellence.
CHOC is recognized by Press Ganey for excellence in physician engagement with our families.
We are recognized with the Gold Level CAPE (California Awards for Performance Excellence) Award from the California Council for Excellence (CCE). CHOC is the only children's hospital in California to ever earn this distinction.
CHOC is the first children's hospital in the U.S. to earn the Beacon Award for Critical Care Excellence.
Tracheostomy and Mechanical Ventilation Resources