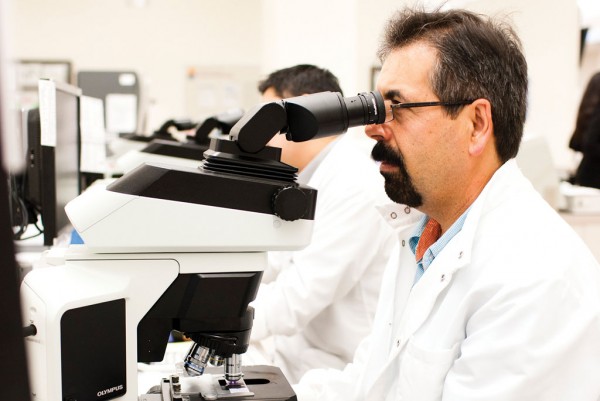 CHOC Laboratory Services is one of the only dedicated pediatric labs in Southern California.
Conveniently located on the lower level of the Bill Holmes Tower, right off the elevator, the 20,000 square foot lab is dedicated to offering the most compassionate blood draw experience possible while providing physicians with quick, accurate results and around-the-clock service for our inpatients and children visiting our Emergency Department.
Understanding the needs of children
At CHOC, we specialize in providing children with the most pleasant experience possible—even when it comes to having blood drawn. All of our phlebotomists (people specially trained to draw blood) have at least two years of experience working with children before coming to CHOC and receive very special training upon being hired to work with our patients.
State-of-the-art clinical laboratory
At CHOC, we pride ourselves on processing blood, urine and stool tests as quickly and efficiently as possible using the very latest equipment and expert staff. Physicians connected to our computer network are often able to get routine results within 60 minutes.
Frequently Asked Questions
Directions and Contact Information
CHOC Laboratory Services

We are located on the lower level of the CHOC Hospital Bill Holmes Tower, just outside the elevators. After parking in the structure next to the hospital, patients must check in at the main reception area in the lobby of the hospital with the lab request from the child's physician.
Hours
Our hours of operation have changed. At this time, please call 714-509-3132 to get the most current hours of operation.
Get printable maps of our campus in English or Spanish.
  1201 W. La Veta | Orange, CA 92868
  714-509-3132 | FAX: 855-202-0879 (lab orders)