Dr. Sneha Taylor, Pediatric Hospitalist - Neonatology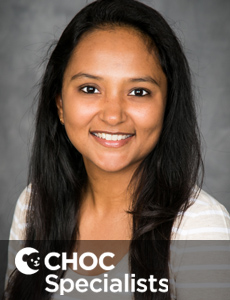 ---
Sneha K Taylor MD

Office: 714-509-4373
Specialty: Neonatology
Board Certified: Pediatrics, Neonatal-Perinatal Medicine
Dr. Sneha Taylor is a pediatrics board certified, CHOC neonatologist who provides care for critically ill premature and full-term infants in Orange County. Dr. Taylor received her medical degree at Smt NHL Municipal Medical College, Gujarat University, India.  She completed Pediatric residency at Florida State University with ABP certification. She served her neonatal-perinatal medicine fellowship at Harbor-UCLA/CHOC Hospital.
Dr. Taylor has served as a chief pediatric resident and chief neonatal fellow.  Dr. Taylor's philosophy of care is to provide quality patient care that she would want for her child.  Her clinical interests include improving functional outcomes of extremely low birth weight babies, neonatal resuscitation and research involving quality improvement.  She enjoyes teaching at various levels including RNs, RTs and medical trainees. Dr. Taylor is on staff at CHOC Hospital, Orange.
Sneha K Taylor MD is on staff at CHOC Hospital in Orange .
Locations
CHOC Hospital 
1201 W La Veta Ave
Orange, CA  92868
Pomona Valley Hospital
1798 N. Garey Ave.
Pomona, CA 91767
Parkview Community Hospital
3865 Jackson St.
Riverside, CA 92503
St. Jude Medical Center
101 E. Valencia Mesa Dr.
Fullerton, CA 92835
Education
Medical School
Smt. NHL Municipal Medical College, Gujarat University, India
Pediatrics Residency
Florida State University/Sacred Heart Hospital, Pensacola, Florida
Neonatology Fellowship
Harbor-UCLA Medical Center, Torrance, California
Administrative Appointments
Neonatology, CHOC Specialists
Administrative Appointments
Neonatology, CHOC Specialists
Our neonatologists commonly treat the following conditions in newborns and babies:
Apnea
Bradycardia
Bronchopulmonary dysplasia (BPD)
Heart valve abnormalities
Hypoglycemia
Intrauterine growth restriction (IUGR)
Intraventricular hemorrhage (IVH)
Jaundice
Macrosomia
Persistent pulmonary hypertension of the newborn (PPHN)
Pneumonia
Respiratory distress syndrome (RDS)
Retinopathy of prematurity (ROP)
Sepsis
Septal defects
Trouble keeping warm