Dr. Christine S. Kurlawalla-Martinez, Neonatology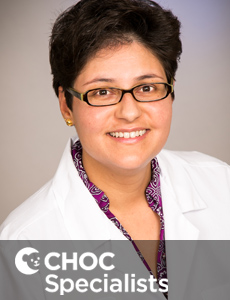 Dr. Kurlawalla-Martinez has specialized training in neonatology. She is board certified in pediatrics and neonatal-perinatal medicine. She attended medical school at the University of California, Irvine College of Medicine. She completed her pediatric residency at King-Drew Medical Center in Los Angeles and completed her fellowship training in neonataology at Mattel Children's Hospital at UCLA. Dr. Kurlawalla-Martinez is available to see patients at CHOC Hospital in Orange and CHOC at Mission Hospital. She is board certified in Pediatrics and Neonatal-Perinatal Medicine.
Clinical Interests
Include surgical emergencies in the neonate, congenital neoplasms and cranio-facial abnormalities.
Locations
CHOC Specialists, Neonatology
1201 W. La Veta Avenue
Orange, CA 92868
CHOC at Mission Hospital
27700 Medical Center Rd. 5th Floor
Mission Viejo, CA 92691
Western Medical Center
1001 N. Tustin Ave.
Santa Ana, CA 92705
Pomona Valley Hospital
1798 N. Garey Ave.
Newport Beach, CA 91767
Education
Fellowship
fellowship training in neonataology at Mattel Children's Hospital at UCLA.
Medical School
University of California, Irvine College of Medicine
Pediatric Residency
King-Drew Medical Center in Los Angeles
Academic Appointments
Assistant Clinical Professor
University of California, Irvine, School of Medicine
Administrative Appointments
Neonatology, CHOC Specialists
Lectures and Presentations
Abnormal morphogenesis and genetic disorders
Hypoxic ischemic encephalopathy
Inborn errors of metabolism
Metabolic & syndromic bone diseases
Necrotizing enterocolitis
Neonatal Dermatology
Periventricular-Intraventricular hemorrhage
Retinopathy of prematurity
Our neonatologists commonly treat the following conditions in newborns and babies:
Apnea
Bradycardia
Bronchopulmonary dysplasia (BPD)
Heart valve abnormalities
Hypoglycemia
Intrauterine growth restriction (IUGR)
Intraventricular hemorrhage (IVH)
Jaundice
Macrosomia
Persistent pulmonary hypertension of the newborn (PPHN)
Pneumonia
Respiratory distress syndrome (RDS)
Retinopathy of prematurity (ROP)
Sepsis
Septal defects
Trouble keeping warm
Christine S Kurlawalla-Martinez MD

Office: 714-509-4373
Specialty: Neonatology
Board Certified: Pediatrics, Neonatal-Perinatal Medicine
On Staff at: CHOC Children's Hospital and CHOC Children's at Mission Hospital