Dr. Anup J. Patel, Pediatric Gastroenterology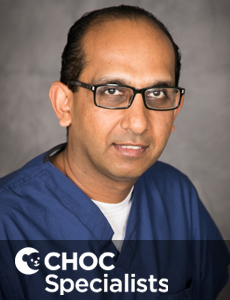 ---
Anup J Patel MD

Appointments:
888-770-2462
Office: 714-509-4099
Specialty: Gastroenterology
Board Certified: Pediatrics, Pediatric Gastroenterology
As an expert in pediatric gastroenterology, Dr. Patel has a special interest in eosinophilic esophagitis and has given numerous presentations and written journal articles regarding the topic. He holds awards from Stanford University for Transplant and Tissue Engineering Endowment and is an Alan M. Krensky Endowed Clinical Fellow.
Dedicated to clinical excellence, Dr. Patel is board certified in pediatrics and pediatric gastroenterology. He attended medical school at Albany Medical College in New York. He completed his pediatric residency training at University of Nevada School of Medicine in Las Vegas, followed by a fellowship in pediatric gastroenterology, hepatology and nutrition at Stanford University in Palo Alto, California.
Dr. Patel is available to see patients at CHOC Hospital in Orange, CHOC at Mission Hospital and other select Orange County locations.
Clinical Interests
Eosinophilic esophagitis
Anup J Patel MD is on staff at CHOC Hospital in Orange and CHOC Mission Hospital.
Locations
CHOC Health Center – Mission Viejo
26691 Plaza Suite 130
Mission Viejo, CA 92691
CHOC Specialty Center – Newport Beach
500 Superior Ave. 140
Newport Beach, CA 92663
Batavia Woods Medical Center
725 W. La Veta Ave. 100
Orange, CA 92868
CHOC Specialists, Otolaryngology
1010 W. La Veta Ave. 640
Orange, CA 92868
Fountain Valley Regional Medical Center
17100 Euclid St
Fountain Valley, CA 92708
St Joseph Hospital
1100 W Stewart Dr
Orange, CA 92868
CHOC Clinic
1201 W La Veta
Orange, CA 92868
phone: 888-770-2462
fax: 855-246-2329
11100 Warner Ave. 368
Fountain Valley, CA 92708
Education
Interdisciplinary Bachelor of Science in Biology and Economics
Union College, Schenectady, NY
Medical School
Albany Medical College, Albany, NY
Pediatric Gastroenterology, Hepatology, and Nutrition Fellowship
Stanford University, Palo Alto, CA
Pediatric Residency
University of Nevada School of Medicine, Las Vegas, NV
Academic Appointments
Assistant Clinical Professor
Administrative Appointments
Gastroenterology, CHOC Specialists
Editorial Boards
Journal of Pediatric Gastroenterology
Professional Organizations
North American Society of Pediatric Gastroenterology, Hepatology & Nutrition
Our gastroenterologists commonly treat:
Growth failure
Pancreatic disorders
Nutritional problems
Feeding problems and dysphagia
Liver/biliary abnormalities