Raising A Child On The Autism Spectrum: It Takes A Village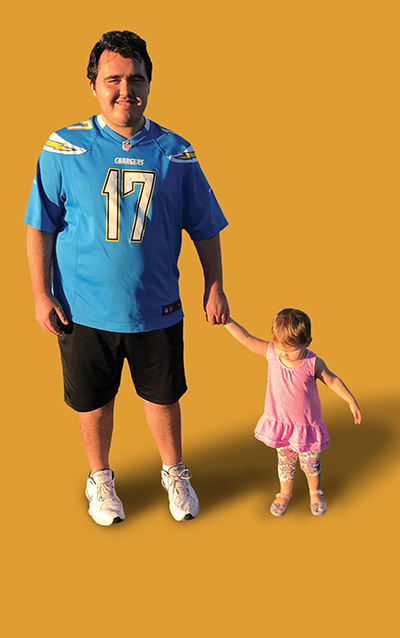 One of the most poignant moments of a celebratory night to unveil plans for the new Thompson Autism Center at CHOC Children's (please see accompanying article) occurred when Jennifer Lehman, the mother of 23-year-old Bradley, shared her story.
Her talk at the April 24 event put a face on the challenges parents of children on the autism spectrum disorder (ASD) experience day in and day out, and the urgent need for more resources to help these families.
Jennifer gave birth to Bradley in 1995 at age 20, and for the first two years of his life "he was social, talking, smiling and the cutest baby ever." However, by age 2-1/2, Bradley had stopped talking and started scream- ing nonstop. "I couldn't figure it out," Jennifer recalls. "I was young and Bradley became my focus."
Jennifer's search for answers led her to three different doctors who told her Bradley was "just going through a phase." Bradley finally was accurately diagnosed at Harbor Regional Center.
"The weekend after the diagnosis, I felt devastated," Jennifer says. "The hopes and dreams I had for my son disappeared. No football. No college. No drivers' license. And in 1997, the medical community had very few answers."
Jennifer was determined to do all she could for Bradley, and through the years attended conferences, spoke with parents of children with ASD, worked with school districts and did her best to navigate a disjointed system. In the meantime, Bradley's symptoms had worsened, with more frequent meltdowns, increasingly aggressive behavior and incessant screaming.
Educating Bradley was challenging. He moved to six different schools until age 16, when his only option was home schooling. In the meantime, at age 15, Bradley started developing uncontrollable seizures. Jennifer again sought answers, running into multiple walls until she finally met Dr. Mary L. Zupanc, MD, Medical Director, Neurology, Neuroscience Institute at CHOC Children's, and one of the country's most highly regarded pediatric epileptologists.
"Dr. Zupanc was the first doctor who understood the association between Bradley's autism and seizures," Jennifer says. "Getting Bradley on the right medication was like night and day. The seizures were more controlled and we began a journey of healing."
Jennifer credits her faith and her community of support, including her church, Bradley's caregivers No Ordinary Moments, Inc., and CHOC Children's for helping Bradley thrive. "Community brings life, strength and hope," she says. "And hope is such a key."
Jennifer calls the new Thompson Autism Center a "vital resource" for the community and one that will help parents as they navigate the system trying to find help for their children with autism spectrum disorders.
"Countless parents share my story, and this new center, with its focus on early intervention and establishing long-term support systems, provides so much hope," Jennifer notes. "Two decades ago, I was not given much hope. I am glad that has changed."
Dr.  Zupanc's treatment of Bradley marked the beginning of his journey toward a brighter future.