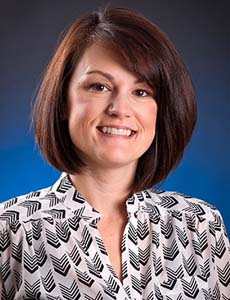 Pediatric orthopaedic surgeon and researcher Jessica McMichael, MD, specializes in the care and treatment of fractures, and a variety of pediatric musculoskeletal disorders, including limb and foot deformities, and cerebral palsy.
"At CHOC, I have the opportunity to combine my first love, trauma care, with my second love, pediatric limb deformity, in both my clinical practice and my research work," Dr. McMichael says. "It's a stimulating environment to help advance the care, and the safety of this care, for our pediatric orthopaedic patients."
One of Dr. McMichael's interests is improving safety on the front lines of pediatric orthopaedic care—the emergency room. She is working with orthopaedic residents from the University of California, Riverside, medical school program to improve the safety of fluoroscopy by reducing radiation exposure in young patients.
"Obviously one of the big reasons children go to the ER is a broken bone," Dr. McMichael points out. "We train our residents on how do the manual reduction, using sedation if necessary, and put the patients in a splint or cast."
One of the challenges is using the lowest radiation possible during this procedure. In her research, Dr. McMichael is conducting a retrospective review of the radiation used in treating specific fractures. Her goal is to develop an algorithm residents can follow to reduce the radiation exposure. "It is especially important for young, growing patients," she says, "and is in line with the state of California's efforts to reduce radiation exposure."
Dr. McMichael's other area of focus is using 3D printing to aid with surgery planning, working with medical students at the University of California, Irvine to create new options for surgeons.
"Sometimes if a fracture heals in a poor position following surgery, it can limit the range of motion," Dr. McMichael points out. "Recent technology allows us to take information from a CT scan and convert it to a 3D model, helping us to determine how best to realign the bones before we begin the surgical procedure."
This approach is expensive, however, which is why Dr. McMichael is exploring the possibility of using ultrasound and 3D printing to accomplish the same objective—improved pre-surgical planning.
"If we can successfully do this, we can reduce operating room time, which has cost and safety implications for patients and hospitals," she says. "There is little information reported, and we are excited to start the research process."