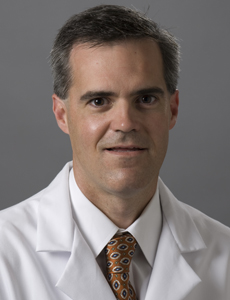 Pediatric orthopaedic surgeon and researcher Francois Lalonde, MD, leads CHOC's hip disorder program, so it comes as no surprise that one of his long-term research projects involves Legg-Calve-Perthes disease.
"In this condition," explains Dr. Lalonde, "the blood supply to the femoral head—the ball-shaped head of the thigh bone—is interrupted. This causes the head of the bone to collapse. The body will absorb the dead bone cells and replace them with new bone cells, eventually reshaping the femoral head.
"If left untreated, Legg-Calve-Perthes disease can lead to chronic hip pain and premature degenerative changes of the hip joint," Dr. Lalonde adds.
For the past seven years, the CHOC Hip Program has adopted a treatment protocol developed by nationally recognized orthopaedic surgeon Dr. Perry L. Schoenecker in St. Louis.
The treatment involves several steps. First, the surgeon performs an operation to lengthen the hip adductors, which are the muscles in the child's thigh. This helps to increase the movement by the hip. Next, an A-frame cast is placed to keep the soft femoral head contained, in conjunction with limited weight bearing.
"The child next undergoes physical therapy during the day while using a John Roberts brace at night to maintain the hip range of motion," Dr. Lalonde says. "By following these essential principles, we have been able to reproduce Dr. Schoenecker's excellent clinical results."
The CHOC Hip Program has compiled seven-year clinical and radiographic data on 70 patients diagnosed with Legg-Calve-Perthes disease between the ages of 4 and 12.
"This long-term follow-up data reveal that our patients have maintained excellent hip range of motion, leading to good containment and shape of the healed femoral head with maintenance of joint congruity," Dr. Lalonde says. "These patients have been able to resume sports activities without hip pain.
"We are getting ready to publish our findings and present them at national meetings," Dr. Lalonde adds. "By validating this approach, we can demonstrate the importance of having this resource for our patients. This allows these young patients to regain their childhood as soon as possible."
A second research interest for Dr. Lalonde involves studying advanced hip joint preservation techniques for hip dysplasia, where the hip socket does not fully cover the ball portion of the upper thighbone. These include the Ganz periacetabular osteotomy, which involves cutting the bone around the acetabulum to redirect it over the femoral head, and lengthening the femoral neck.
Dr. LaLonde also does research on treating children with dislocated hips. "I have gathered a database of patients who have presented early, allowing us to treat them with a hip brace and a good ultrasound program to monitor the response to treatment."
He adds, "These research projects allow us provide the best surgical treatment possible so these young patients with hip problems can move into their adolescence and adult life without the need for further intervention. It's important work."