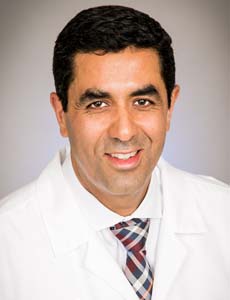 Pediatric orthopaedic surgeon and researcher Afshin Aminian, MD, is driven by one goal: to "give children with movement challenges a life without limits."
Dr. Aminian sees patients with a wide array of conditions, from rare genetic disorders and neuromuscular diseases to scoliosis and fractures. All have one challenge in common: problems with simple movement in their daily activities.
"We know every one of these young patients has a dream – to be up and out on the playing field, running around and having fun with their peers," says Dr. Aminian.
Dr. Aminian recalls a 6-year-old patient with severe cerebral palsy whose deformities were corrected with surgeries and intensive post-operative rehabilitation. She told him, "I thought I was a ship stuck in a sand dune, and now I have water under my sails." Yet by high school, she had lost some of the gains she had made, leaving her with severe limitations in movement and Dr. Aminian more determined than ever to help children with these movement challenges.
Dr. Aminian's quest for an innovative answer led him to team up with Chapman University's Schmid College of Science and Technology and Crean College of Health and Behavioral Sciences to develop a transformational research initiative. They designed a research project involving placing wearable sensors on patients with movement challenges to collect data that will eventually, with the aid of artificial intelligence and computer learning, lead to improved outcomes.
"We are hoping to design the new generation of smart, wearable customized orthoses that will help maintain their gains in the future," Dr. Aminian explains.
Another one of Dr. Aminian's research passions that closely aligns with his clinical work is improving the care of children with scoliosis—creating ways to fix the deformity while allowing the spine to grow.
"We completed a study in a porcine model that allowed the growth of the spine while the deformity was corrected, and presented these findings at the International Conference on Early Onset Scoliosis (ICEOS) international meeting in the Netherlands in November 2016," Dr. Aminian says.
"Advancing this concept will take a huge effort, including working with the U.S. Food and Drug Administration to receive approval for human trials," Dr. Aminian says. "We are very encouraged with these results."
Another area of interest is researching pioneering new gene therapies for treatment of rare genetic diseases in children.
One such disease is mucopolysaccharidoses (MPS) syndromes, which are rare, inherited diseases of metabolism involving a lysosomal storage disorder. Individuals with this disease do not make an enzyme that helps break down long chains of sugar molecules called glycosaminoglycans. Without this enzyme, glycosaminoglycans build up, resulting in severe arthritic knees and stiff joints.
"We did a canine study to evaluate injecting enzymes into the joints, and we did see a reduction in joint inflammation," Dr. Aminian explains. "Our next step is to see if we can permanently incorporate the enzyme replacement with gene therapy for these children with the enzyme deficiencies. It is very exciting research."
Dr. Aminian adds, "Our ultimate goal with all of this research is to get kids with movement challenges off the sidelines and be active again."