Dr. Rebecca Ba'Gah, Pediatric Psychiatry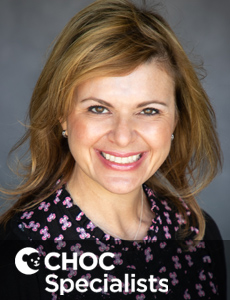 ---
Rebecca Ba'Gah MD

Office: 714-509-8232
Specialty: Psychiatry
Board Certified: Pediatrics
Dr. Rebecca Ba'Gah is a board-certified pediatrician and general psychiatrist at CHOC in Orange County, California. She cares for patients in the Cherese Mari Laulhere Mental Health Inpatient Center.
As an expert in pediatric psychiatry, Dr. Ba'Gah cares for children and adolescents with a wide variety of psychiatric conditions, including neurodevelopmental, mood, anxiety, thought and substance use disorders. She specializes in thorough evaluations and designing comprehensive treatment plans using a holistic approach, given her combined background in general pediatrics and psychiatry. Dr. Ba'Gah is heavily involved in community outreach to promote treatment as well as family and community education.
"I came to love psychiatry because I found the opportunity to help create an acute, profound change in a child's life. It's rather humbling that I get to set up children for success every day!"
–Dr. Rebecca Ba'Gah
Rebecca Ba'Gah MD is on staff at CHOC Hospital in Orange .
Location
CHOC Specialists, Psychiatry
1120 W. La Veta, Suite 830
Orange, CA 92868
Phone: 714-509-8232
Fax: 714-509-9432
Education
Medical School
St. George's University School of Medicine, West Indies, Grenada
Psychiatry Residency
University of Kentucky, Lexington, KY
Videos