Dr. Kevin Huoh, Pediatric Otolaryngology (ENT)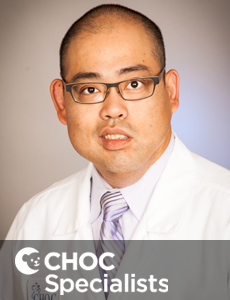 ---
Kevin Huoh MD

Office: 714-633-4020
Specialty: Otolaryngology (ENT)
Board Certified: Otolaryngology
Additional Languages: Mandarin, Spanish
As a highly-regarded pediatric otolaryngologist, Dr. Kevin Huoh specializes in congenital and acquired head and neck tumors, vascular malformations, surgical therapy of sleep apnea, endoscopic airway management, and otologic surgery. After having been born with a large neck mass, Dr. Huoh had multiple surgeries as a child by pediatric otolaryngologists. This personal experience has motivated Dr. Huoh to pursue a career dedicated to the comprehensive and compassionate care of children with head and neck disorders.
Dr. Huoh is board-certified in Otolaryngology (head-and-neck surgery) with an additional sub-certification in Complex Pediatric Otolaryngology. He served a fellowship in pediatric otolaryngology at Lucile Packard Children's Hospital at Stanford Hospitals and Clinics. During this fellowship, He was awarded the Seymour Cohen Prize from the American Broncho-Esophagological Association for his research in pediatric airway management.  Dr. Huoh graduated medical school from the University of California, San Francisco (UCSF), with Alpha Omega Alpha honors.
Dr. Huoh completed his residency training in otolaryngology (head-and-neck surgery) at UC San Francisco. During his residency, he earned many honors for his research in otolaryngology, including twice winning the prestigious Triological Society Western Section Shirley Baron Resident Research Award for his work with pediatric thyroglossal duct cysts and salivary stones. As a graduating chief resident, Dr. Huoh was presented with the UCSF Kelvin C. Lee Resident Award for his meritorious service and dedication to the specialty of otolaryngology.
Kevin Huoh MD is on staff at CHOC Hospital in Orange .
Locations
CHOC Specialists – Otolaryngology
1010 W La Veta Ave, Suite 710
Orange, CA 92868
phone: 714-633-4020
fax: 714-953-5462
CHOC Specialists – Seal Beach 
770 Pacific Coast Highway
Seal Beach, CA 90740
phone: 714-633-4020
fax: 714-953-5462
CHOC Specialists – Irvine
250 E. Yale Loop, Suite 200
Irvine, CA 92604
phone: 714-633-4020
fax: 714-953-5462
Education
Medical School
UCSF School of Medicine, San Francisco, CA
General Surgery Internship
UCSF Medical Center, San Francisco, CA
Otolaryngology Residency
UCSF Medical Center, San Francisco, CA
Pediatric Otolaryngology Fellowship
Stanford University Medical Center, Stanford, CA
Administrative Appointments
Otolaryngology, CHOC Specialists
Honors and Awards
ABEA Seymour R. Cohen Pediatric Laryngology Research Award 2013
Alpha Omega Alpha 2007
Triological Society Western Section Shirley Baron Resident Research Award 2010 and 2011
UCSF Clinical and Translational Science Institute Research Grant 2010
UCSF OHNS Kelvin Lee, M.D. Resident Award 2012
UCSF OHNS Resident Research Symposium- First Prize 2011
USC University Valedictorian 2003
Professional Organizations
American Academy of Otolaryngic Allergy
American Academy of Otolaryngology- Head and Neck Surgery
Triological Society
Publications
Huoh KC. Haidar YM. Dunn BS. Current Status and Future Trends: Pediatric Intracapsular Tonsillectomy in the United States. Laryngoscope, vol. 131. 2020 Sept 24.
Huoh KC. Chang KW. Lip Abscess Associated with Isotretinoin Treatment of Acne Vulgaris. JAMA Dermatology. 2013 Jun 12:1-2. 2013 Aug;149(8):960-1/.
Huoh KC. Yung KC. Case Report: Retained Denture in Oropharynx. Otolaryngology 2:121.
Durr ML. Huoh KC. Meyer AK. Rosbe KW. Airway Hemangiomas in PHACE Syndrome. Laryngoscope 2012 Oct;122(10):2323-9.
Huoh KC. Durr ML. Meyer AK. Rosbe KW. Comparison of Imaging Modalities for Pediatric Thyroglossal Duct Cysts. Laryngoscope 2012 Jun;122(6):1405-8.
Huoh KC. van Zante A. Eisele DW. Extramedullary Plasmacytoma of the Tonsil. Case Reports in Otolaryngology, vol. 2011, Article ID 430809, 2 pages, 2011.
Huoh KC. Eisele DW. Etiologic Factors in Sialolithiasis. Otolaryngology Head Neck Surg. 2011 Dec;145(6):935-9.
Huoh KC. Wang SJ. Poor Outcomes in Non-Melanoma Cutaneous Carcinomas. The Open Otorhinolaryngology Journal 2010;4:93-97.
Huoh KC, Cheung SW. Chorda Tympani Neuroma. Otol Neurotol 2010;31:1172-1173.
Book Chapters
Huoh KC, Messner AH. Cricopharyngeal Achalasia. Current Opinion in Otolaryngology- Head and Neck Surgery. 2013 Dec;21(6):576-80.
Huoh KC. Rosbe KW. Infantile Hemangiomas of the Head and Neck. Pediatric Clinics of North America: Pediatric Otolaryngology. 2013 Aug;60(4):937-49.
Messner A. Chang KC. Huoh KC. Pediatric Otolaryngology. Anesthesiologists Manual of Surgical Procedures, Fifth Edition. Eds. Richard Jaffe and Brenda Golinau (submitted).
Huoh KC. Rosbe KW. Routine Goes Awry: Analysis of Pediatric Adenotonsillectomy. AHRQ Web M&M: Online Journal and Forum on Patient Safety and Health Care Quality. Agency for Healthcare Research and Quality, Rockville, MD. June 2011. http://www.webmm.ahrq.gov/case.aspx caseID=243.
Kim J. Huoh KC. (Midface) Fractures. Neuroimaging Clinics of North America: Neuroradiology Emergencies 2010;4:581-96.
Rosbe KW, Huoh KC. Airway Reconstruction. Current Diagnosis and Treatment in Otolaryngology- Head and Neck Surgery Third Edition. ed Anil Lalwani. 2011.
Our ENT specialists commonly treat:
Airway disorders
Congenital and acquired hearing loss
Acute and chronic ear infections
Middle ear disorders
Masses of the head and neck
Speech disorders
Swallowing disorders
Foreign bodies of the aerodigestive tract
Health Topics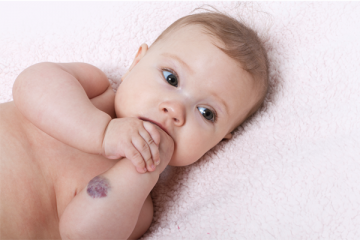 Vascular Anomalies
Vascular anomalies are congenital abnormalities of the vascular or lymphatic system. They are benign lesions that present anywhere on the body in the form of vascular birthmarks or masses.