Dr. Rahul Bhola, Medical Director, Ophthalmology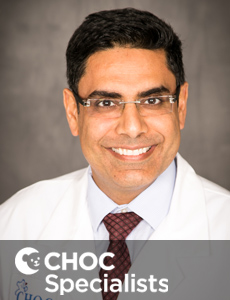 ---
Rahul Bhola MD

Appointments:
888-770-2462
Office: 714-509-4490
Specialty: Ophthalmology
Board Certified: Ophthalmology
An internationally recognized expert in pediatric ophthalmology, Dr. Bhola has over 15 years experience specializing in the complete array of pediatric vision conditions and eye diseases. Dr. Bhola is board certified in ophthalmology with expertise in pediatric ophthalmology and adult strabismus.
Dr. Bhola has received numerous awards both nationally and internationally and has published extensively in peer-reviewed journals. He has participated as an investigator in many NIH sponsored trials and has been elected "Best Doctors in America" and "America's Top Ophthalmologist" consecutively for many years. Dr. Bhola brings to CHOC a wealth of experience and expertise and has contributed immensely to the advancement of pediatric ophthalmology.
Dr. Bhola completed his medical degree and ophthalmology residency from University of Delhi, India and a second residency in ophthalmology from University of Louisville, Kentucky where he served as chief resident. Dr. Bhola was visiting assistant professor and research fellow in ophthalmology at Jules Stein Eye Institute, UCLA and completed a clinical fellowship in pediatric ophthalmology at University of Iowa.
Dr. Rahul Bhola serves as the division chief of CHOC Specialists Ophthalmology and is an associate clinical professor at UC Irvine School of Medicine. Dr. Bhola provides comprehensive ophthalmology care including vision screening for refractive errors, screening and treatment of amblyopia (lazy eye), ocular motility disorders like strabismus, tearing eyes, infantile and childhood cataract, childhood glaucoma, pediatric uveitis, traumatic eye injuries in children, retinopathy of prematurity and its complications, ocular manifestations of systemic diseases like Diabetes, Juvenile idiopathic arthritis, sickle cell diseases, craniosynostosis, pseudotumor cerebri, genetic and metabolic disorders.
Dr. Bhola's research interests are focused on diseases resulting in irreversible vision loss in pediatric population such as amblyopia, strabismus, retinopathy of prematurity and pediatric glaucoma. He is also involved in research projects on better understanding the etiology and pathogenesis of Graves' disease (thyroid eye disease) and its involvement on ocular motility. Dr. Bhola is also involved in research on dry eyes in pediatric population.
Rahul Bhola MD is on staff at CHOC Hospital in Orange .
Locations:
CHOC Specialists Ophthalmology
Centrum North Building
1120 W. La Veta Ave., Suite 100
Orange, CA  92868
CHOC Health Center- Mission Medical Tower
26732 Crown Valley Pkwy, Suite 501
Mission Viejo, CA 92691
Education:
Medical School
University College of Medical Sciences, New Delhi, India
Pediatrics Internship
University of Louisville School of Medicine, Louisville, KY
Ophthalmology Residency
University of Louisville School of Medicine, Louisville, KY
Pediatric Ophthalmology Fellowship
University of Iowa Hospitals, Iowa City, IA
Pediatric Ophthalmology Fellowship
UCLA Medical Center, Los Angeles, CA
Administrative Appointments
Medical Director, Ophthalmology
CHOC Specialists
Academic Appointments
Associate Clinical Professor, UC Irvine School of Medicine
Editorial Boards
Senior Editor Ophthalmic Network and Education-Pediatric Ophthalmology section, American Academy of Ophthalmology.
Professional Organizations
International Council of Ophthalmology, Cambridge (ICO)
American Academy of Ophthalmology (AAO)
American Association of Pediatric Ophthalmology and Strabismus (AAPOS)
Association for Research in Vision and Ophthalmology (ARVO)
International Strabismological Associaiton (ISA)
American Association of Physician Leaders (AAPL)
Association of University Professors in Ophthalmology (AUPO)
Honors and Awards
Best Doctors in America, 2015 – present
America's Top Ophthalmologist, 2013 – present
International Association of Health Care Professionals (IAHCP)
Patient's Choice Award, 2010 – present
Chairman Achievement Award
Department of Pediatrics, University of Louisville
National Resident Excellence Award
American Society of Cataract and Refractive Surgery
Patrick R. O' Connor Best Teaching Award
Department of Ophthalmology and Visual Sciences
University of Louisville School of Medicine, Louisville, KY, USA
Appreciation Award and Certificate of Merit
Outstanding Service and Dedication towards Prevention of Blindness
Kentucky Lions Eye Foundation
American Academy of Ophthalmology Achievement Award
American Academy of Ophthalmology (AAO) Annual Meeting
Scientific Reviewer
PLOS One
Journal of American association of pediatric ophthalmology and strabismus
JAMA Ophthalmology
Ophthalmology Journal
Ocular Immunology and Inflammation
British Journal of Ophthalmology
International Journal of Ophthalmology
European Journal of Ophthalmology
American journal of Cataract and Refractive surgery
Grants and Contracts
Clinical Studies
Co- Investigator       Project Period:           12/2015-12/2020
NIH RO1
Title: Tear Film Lipid Compositional, structural, functional relationships and dry eye disease.
Peer Reviewed Original Scientific Manuscripts
Sledge SM, Khimji H, Borchman D, Bhola R. Evaporation and Hydrocarbon Chain Comformation of Surface Lipid Films. Ocul Surf. 2016 Jul 6. pii: S1542-0124(16)30082-9. doi: 10.1016/j.jtos.2016.06.002.
Ying GS, Quinn GE, Wade KS, Bhola R. Predictors for the development of referral-warranted retinopathy of prematurity in the telemedicine approaches. JAMA Ophthalmol. 2015 Mar;133(3):304-11.
 Kemper AR, Wade KC, Hornik CP, Ying GS, Quinn GE, Bhola R. Telemedicine Approaches to Evaluating Acute-phase Retinopathy of Premturity (e-ROP) Study Cooperative Group. J Pediatr. 2015 Feb;166(2):257-61.e2. doi: 10.1016/j.jpeds.2014.09.069.
Wadia S, Bhola R, Padmanabhan P, Stevenson M. Ketamine and intraocular pressure in children. Ann Emerg Med. 2014 Oct;64(4):385-388.e1. doi: 10.1016/j.annemergmed.2014.01.029. Epub 2014 Feb 28.
Aponte E, Bhola R, Randolph J, Rychwalski P. Clinical characteristics and visual outcome in Aniridia. Invest Ophthalmol Vis Sci 2011;52:1586.
Bhola R, Purkiss T, Stewart D, Rychwalski P. Effect of GCSF in Retiopathy of Prematurity. Journal of American Association of Pediatric Ophthalmology and Strabismus 2009 Oct;13(5):450-3
Kumar K, Prasad H, Bhola R. Hang-back recession of inferior oblique muscle in V- pattern strabismus with inferior oblique overaction. Journal of American Association of Pediatric Ophthalmology and Strabismus 2008 Aug; 12(4) 401-404.
Bhola R, Olson RJ. Dorsal Midbrain Syndrome with bilateral superior oblique palsy following brainstem hemorrhage. Archives of Ophthalmology 2006 Dec.124(12) 1786-
Bhola R, Keech RV, Kutschke P, Pfeifer W, Scott WE. Recurrence of Amblyopia after occlusion therapy. Ophthalmology 2006 Nov. 113(11) 2097-100.
Ortube M, Bhola R, Demer JL. Orbital magnetic resonance imaging of extraocular muscles in chronic progressive external ophthalmoplegia: specific diagnostic findings. Journal of American Association of Pediatric Ophthalmology and Strabismus 2006
Oct; 10(5):414-8
Sharma P, Gogoi M, Kedar S, Bhola R. Periosteal fixation in third-nerve palsy.
Journal of American Association of Pediatric Ophthalmology and Strabismus 2006 Aug;10(4):324-7
Bhola R, Keech RV, Olson RJ. Long-term Outcomes of Pediatric Aphakic Glaucoma. Journal of American Association of Pediatric Ophthalmology and Strabismus 2006 June; 10 (3) 243
Bhola R, Rosenbaum AL, Ortube M, Demer JL. High resolution MRI demonstrates varied anatomic abnormalities in Brown's Syndrome. Journal of American Association of Pediatric Ophthalmology and Strabismus 2005 Oct;9(5):438-48.
Bhola R, Velez F, Rosenbaum AL. Isolated Superior Oblique Tucking: An Effective Procedure for Superior Oblique Palsy with profound Superior Oblique Underaction. Journal of American Association of Pediatric Ophthalmology and Strabismus. 2005
June; 9 (3): 243-249
Lectures and Presentations at Peer Reviewed Intentional Conferences
Bhola R. Innovations in Imaging in the Diagnosis and Management of Strabismus. University of Kwazulu-Natal, Durban, South Africa, 2016
Bhola R, Sowell M, Estaphane N, Mutchnik I. Pediatric Idiopathic Intracranial Hypertension: A major Review. Presented at 2015 meeting of American Headache Society Meeting, Washington DC.
Bhola R, Asamoah A, How H, Platky K, Hersh, JH. Peters Plus Syndrome: A rare genetic multiple congenital anomaly syndrome. Presented at 36th Annual David W. Smith Workshop on Malformations and Morphogenesis at Maryland
Sharma P, Bhola R. Adjustable partial vertical rectus transpositioning in cases of lateral rectus palsy. Presented as Poster at 2015 meeting of American Association of Pediatric Ophthalmology and Strabismus, New Orleans.
Bhola R. Etiopathogenesis of Pulley abnormality and Strabismus. Invited talk in the special Pediatric Ophthalmology Section. All India Ophthalmological Society Annual Meeting Agra, India 2014