Dr. Maija-Riikka Steenari, Neurology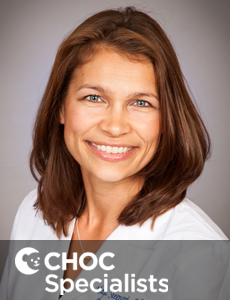 ---
Maija-Riikka Steenari MD

Appointments:
888-770-2462
Office: 714-509-7601
Specialties: Child Neurology, Clinical Neurophysiology
Board Certified: Child Neurology, Clinical Neurophysiology, Epilepsy
Additional Languages: Finnish
As a pediatric neurologist and epilepsy specialist, Dr. Steenari's clinical interests include neurometabolic diseases, infantile spasms, Lennox-Gastaut syndrome, refractory epilepsy, intracranial monitoring and epilepsy surgery. Her research interests include understanding epileptic disorders, such as infantile spasms and Lennox-Gastaut syndrome, investigating different treatment options in patient with refractory epilepsy and quality of life in patients with epilepsy.
Since joining CHOC, Dr. Steenari has worked with the Comprehensive Epilepsy Center to advance the standard of care for children with epilepsy, and she collaborates with the CHOC Metabolic specialists in the conjoined Neurometabolic Clinic.
Dr. Steenari is board certified in in child neurology, clinical neurophysiology, and epilepsy. She attended medical school at University of Helsinki Medical Faculty in Helsinki Finland, and completed her pediatric residency at White Memorial Medical Center in Los Angeles California and child neurology training at CHOC and UC Irvine. She also completed a subspecialty fellowship in pediatric epilepsy at CHOC and UC Irvine. She is a member of the American Epilepsy Society, the American Academy of Neurology, and the Orange County Medical Association.
Maija-Riikka Steenari MD is on staff at CHOC Hospital in Orange and CHOC Mission Hospital.
Locations
CHOC Hospital
1201 W La Veta Ave
Orange, CA 92868
phone: 714-509-7601
fax: 855-246-2329
CHOC Neuroscience Center
505 S Main St, Suite 350
Orange, CA 92868
phone: 714-509-7601
fax: 714-246-2329
Education
Medical School
University of Helsinki Faculty of Medicine, Finland
Pediatrics Residency
White Memorial Medical Center, Los Angeles, CA
Child Neurology Fellowship
UCI Medical Center, Orange, CA
Professional Organizations
American Academy of Neurology
American Academy of Pediatrics
Finnish Medical Association
Finnish Medical Society Duodecim
Our neurologists commonly treat:
Movement disorders
Headaches
Concussion and head/spine trauma
Neurogenetic/neurometabolic disorders
Neuroimmunological disorders
Neurological aspects of head injuries
Complications of central nervous system infections