Dr. Shaheen I. Idries, Pediatric Gastroenterology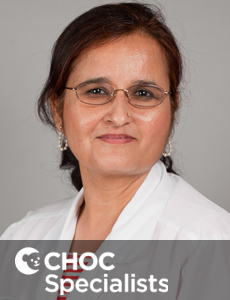 ---
Shaheen I Idries MD

Appointments:
888-770-2462
Office: 714-509-4099
Specialty: Gastroenterology
Board Certified: Pediatrics
For more than 15 years, Dr. Idries has specialized in pediatric gastroenterology and treating constipation, GER, inflammatory bowel disease and intestinal motility disorders. She is one of the only researchers in southern California performing long-term motility studies. Dr. Idries is conducting research involving the effect of erythromycin and octreotide on antroduodenal manometry. Dr. Idries is working on starting a program at CHOC for children with structural bowel defects.
Dedicated to clinical excellence, Dr. Idries is board certified in pediatrics. Prior to joining CHOC, she attended medical school at Dow Medical College in Karachi, Pakistan. She completed pediatric residencies at University of California, Irvine, Miller Children's in Long Beach California, and Winthrop University Hospital in Long Island, New York. Dr. Idries conducted a pediatric gastrointestinal clinical fellow and pediatric gastrointestinal research and motility fellow at Miller's Children.
Research Focus
Erythromycin and octreotide on antroduodenal manometry
Shaheen I Idries MD is on staff at CHOC Hospital in Orange and CHOC Mission Hospital.
Locations
CHOC Health Center in Corona
854 Magnolia Ave. 101
Corona, CA 92879
11100 Warner Ave. 368
Fountain Valley, CA 92708
CHOC Health Center – Mission Viejo
26691 Plaza Suite 130
Mission Viejo, CA 92691
Batavia Woods Medical Center
725 W. La Veta Ave. 100
Orange, CA 92868
CHOC Specialists, Otolaryngology
1010 W. La Veta Ave. 640
Orange, CA 92868
Center for Autism and Neurodevelopmental Disorders
2500 Red Hill Ave.
Santa Ana, CA 92705
phone: (949) 267-0400
fax: (949) 221-0004
CHOC at Mission Hospital
27700 Medical Center Rd
92691, CA
St Joseph Hospital
1100 W Stewart Dr
Orange, CA 92868
CHOC Clinic
1201 W. La Veta Ave. Building: CHOC Clinic
Orange, CA 92868
phone: 888-770-2462
fax: 855-246-2329
CHOC Specialty Center – Newport Beach
500 Superior Ave 140
Newport Beach, CA 92663
Education
St. Joseph College for Women, Karachi Pakistan
Dow Medical College, Karachi Pakistan
Administrative Appointments
Gastroenterology, CHOC Specialists
Academic Appointments
Assistant Professor of Pediatrics
University of California, Irvine
Our gastroenterologists commonly treat:
Growth failure
Pancreatic disorders
Nutritional problems
Feeding problems and dysphagia
Liver/biliary abnormalities