Dr. Gregory K. Wong, Pediatric Gastroenterology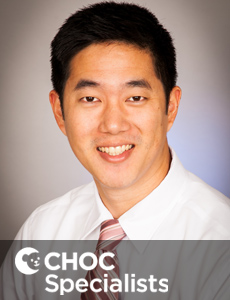 ---
Gregory K Wong MD

Appointments:
888-770-2462
Office: 714-509-4099
Specialty: Gastroenterology
Board Certified: Pediatrics, Pediatric Gastroenterology
Dr. Gregory Wong is a board certified pediatric gastroenterologist who treats the full-spectrum of gastrointestinal disorders in children at CHOC. Dr. Wong is a member of the physician team, CHOC Gastrointestinal Motility Program. Dr. Wong is the primary gastroenterologist of CHOC's Cystic Fibrosis Center and is an awardee of the Cystic Fibrosis Foundation's DIGEST training grant. His clinical interests include chronic constipation, swallowing problems, gastroparesis and irritable bowel syndrome.
Dr. Wong attended medical school at Chicago Medical School Rosalind Franklin University, North Chicago, Illinois. He completed his pediatrics residency at UCI Medical Center, Orange, California. Dr. Wong served his pediatric gastroenterology and hepatology fellowship at Texas Children's Hospital, Baylor College of Medicine, Houston, Texas, where focused his training on gastrointestinal motility disorders and further conducted research on stomach emptying problems in children.
Dr. Wong has written publications and has given several lectures on pediatric gastroenterology topics of gastroparesis and gastric retention in children undergoing gastric emptying scintigraphy. Dr. Wong was born and raised in Honolulu, Hawaii.
Gregory K Wong MD is on staff at CHOC Hospital in Orange .
Locations
CHOC Clinic
1201 W. La Veta Ave.
Building: CHOC Clinic
Orange, CA 92868
phone: 888-770-2462
fax: 855-246-2329
CHOC Specialty Center – Newport Beach
500 Superior Ave.
Suite 140
Newport Beach, CA 92663
phone: 949-631-3603
fax: 877-484-4017
Batavia Woods Medical Center
725 W. La Veta Ave.
Suite 100
Orange, CA 92868
Education
Medical School
Chicago Medical School/Rosalind Franklin University, North Chicago, IL
Pediatric Gastroenterology Fellowship
Texas Children's Hospital, Houston, TX
Pediatrics Residency
UCI Medical Center, Orange, CA
Pediatrics Residency
University of North Carolina Hospitals, Chapel Hill, NC
Administrative Appointments
Gastroenterology, CHOC Specialists
Board Certifications
Pediatric Gastroenterology
American Board of Pediatrics
Pediatrics
American Board of Pediatrics
Lectures and Presentations
Relationship of Gastrointestinal Symptoms and Psychological Distress to Gastric Retention in Children Undergoing Gastric Emptying Scintigraphy
Publications
Decreased Relative Diagnostic Yield of Esophagogastroduodenoscopy in Children with Gastroparesis, Journal of Clinical Gastroenterology, Ahead of Print, 2013
Our gastroenterologists commonly treat:
Growth failure
Pancreatic disorders
Nutritional problems
Feeding problems and dysphagia
Liver/biliary abnormalities