Meet Jacqueline Hurley, Pectus Program Coordinator at CHOC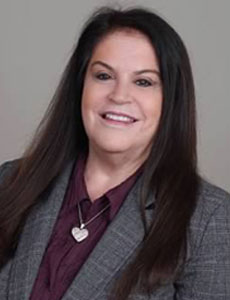 As the pectus program coordinator at CHOC, Jacqueline Hurley's goal is to guide patients through every step of their treatment journey, from their first consultation to surgery and beyond.
"I know patients with a chest wall deformity have many questions and simply want to feel better and to look like their peers," Jackie says. "I'm here to answer those questions and to help ensure we get them there."
Jacqueline received her undergraduate degree in computer science with a minor in business management from State University of New York at Potsdam. She has been working in the medical field for more than 30 years and began streamlining and automating practices as a consultant. She joined and managed the pediatric surgical practice of Dr. Barry LoSasso in 1990 and became involved in the minimally invasive repair of pectus excavatum. Jackie also worked closely with Dr. Donald Nuss, creator of the minimally invasive Nuss procedure, and his team at Children's Hospital of the King's Daughters in Norfolk, Virginia, until Dr. Nuss retired.
Since 2002, Jacqueline has devoted her time to being a patient advocate for pectus patients. She previously served at Rady Children's Hospital, Pheonix Children's Hospital and in a consulting role with the Mayo Clinic in Arizona.
In 2011, Jacqueline created Pectus International, Inc., a nonprofit established with a vision of assisting every patient in need of financial and emotional support. In 2012, she was invited to sit on the board of directors of the Pectus Support and Awareness Foundation. She successfully chaired the past several Advanced Pectus Conferences in Phoenix, Arizona, which hosted more than 150 national and international pectus surgeons.
To schedule a consultation with a CHOC pediatric surgeon, please call 714-364-4050 or contact us below: