From Children's Hospital Today
By April Bell, RN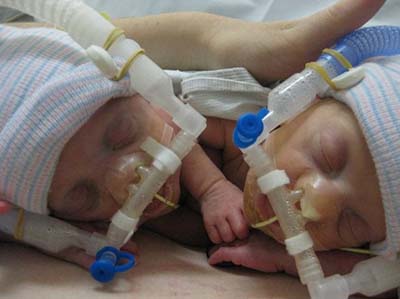 I didn't realize it at the time, but my nursing career would take a different path after my experience with high-risk twins. Before I was pregnant, I was working at CHOC Children's as a nurse in the medical/surgical unit. I enjoyed the time I spent on the unit, but after five years I was looking for another challenge. A new pediatric intensive care unit (PICU) had just opened on the sixth floor, and I was considering a nurse fellowship in the PICU.
At the time, I found out I was pregnant with very high-risk twins with a condition called monoamniotic-monochorionic, or "MoMo," and I put my plans for a career change on hold. The twins were sharing one amniotic sac with the risk their umbilical cords could become tangled or compressed. These rare twins have a 50 percent survival rate. I knew they would likely be delivered early; we ended up making it to 28 weeks. Their cords were knotted together twice and wrapped around my daughter Mikayla's neck twice. Mikayla weighed only 1 pound, 13 ounces when she was born. Emma was 2 pounds, six ounces.
From the moment I delivered the twins, the NICU team in the delivery room made a huge impression on me, including the neonatologist who was present at the delivery, Daryoush Bassiri, M.D. The nurses at the delivery were very supportive and kept me informed about the plan for the babies. Both daughters needed to be intubated right after delivery, but the nurses made sure I could see them briefly before they left for the NICU.
The next few months were filled with ups and downs, but nothing quite as scary as the first few days. After the girls mastered breathing on their own, working on feedings was another struggle. The twins had an amazing team of developmental therapists, lactation consultants and bedside nurses. I learned so much from everyone who took care of my twins. As a medical/surgical nurse, I had floated to the NICU before, but I had no idea what each preemie went through. That's when an idea planted itself in my mind.
Emma was in the NICU for 75 days, and Mikayla was there for 77 days. Toward the end of their NICU stay, I realized that was where I wanted to be as a nurse. I talked to one of the NICU managers and told her I was interested in transferring there. I finished my NICU fellowship when my daughters were about 1 year old.
During the last seven years in the NICU, I've cared for a variety of babies, from small micro-preemies and those who have undergone surgery, to babies with heart defects. I helped open the CHOC Children's NICU at St. Joseph Hospital. I've also had the privilege to work in our Small Baby Unit. After having two micro-preemies, I can relate to the parents. I've been on the other side. I know how frustrating and worrisome it can feel, and I've seen how strong and resilient these babies can be. I enjoy sharing my story with my patients' families.
Looking at my daughters today, you'd never know what they've been through. They are almost 8 years old and excelling in school. The only long-term effect from being born premature and facing a mountain of health challenges has been with Emma, who has a raspy voice from left vocal cord paralysis, a common surgical complication. I am grateful to have two healthy girls. I'm also grateful for the way the CHOC NICU cared for my children, and I'm proud to be part of it as a caregiver.