CHOC Children's Hospital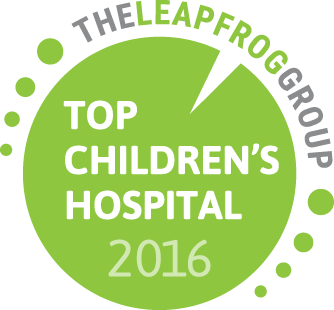 has once again been named a "Top Hospital" by The Leapfrog Group for providing the safest and highest quality health care services to patients.  CHOC is one of only nine children's hospitals in the nation—and the only one on the West Coast— to earn the prestigious distinction.
"CHOC is committed to becoming the world's safest children's hospital. While this is a never-ending journey, being named as a Top Children's Hospital for the eighth time by the Leapfrog Group suggests we are on the right track. Leapfrog has always emphasized patient safety as the top priority, one with which our patients, families and partners would no doubt agree. It's a humbling honor, and serves as both encouragement and motivation to continue our efforts to provide the safest, highest quality care possible," said Dr. James Cappon, chief quality officer, CHOC.
The selection of Top Hospitals is based on the results of the 2016 Leapfrog Hospital Survey. Performance across many areas of hospital care is considered in establishing the qualifications for the award, including infection rates and a hospital's ability to prevent medication errors. The rigorous standards are defined in each year's Top Hospital Methodology.
"Being acknowledged as a Top Hospital is an incredible feat achieved by less than three percent of hospitals nationwide," said Leah Binder, president and CEO of The Leapfrog Group. "With this honor, CHOC has established its commitment to safer and higher quality care. Providing this level of care to patients requires motivation and drive from every team member. I congratulate CHOC's board, staff and clinicians, whose efforts made this honor possible."
To see the full list of institutions honored as 2016 Top Hospitals, please visit www.leapfroggroup.org/tophospitals.