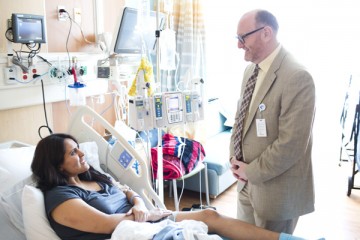 August 26, 2015 – The Hyundai Cancer Institute at CHOC Children's, under the direction of Dr. Leonard Sender, is a proud partner in the California Kids Cancer Comparison Initiative (CKCC), one of two demonstration projects recently selected by the new California Initiative to Advance Precision Medicine, a public-private effort launched by Governor Edmund G. Brown, Jr. CHOC patients will become the first in the state to benefit from big data bioinformatics.
CKCC will give cancer clinicians access to a much broader pool of genetic data than has been readily available, including tumor sequencing data from children and adults around the world. Through the use of a social media platform that maintains the privacy and security of patients' data, clinicians and patients can upload, analyze and communicate genomic information and associated data. In addition to CHOC, the project includes investigators from UC Irvine, UC San Francisco, Stanford University, USC, the Pacific Pediatric Neuro-Oncology Consortium, including UCLA and UC San Diego, Children's Hospital of Philadelphia and the Translational Genomics Research Institute.
CHOC's key contribution to CKCC centers on the clinical trial "Pilot project: Molecular Profiles of Refractory and Recurrent Childhood, Adolescent and Young Adult Cancer." Patients, whose cancer is either recurrent (returned after treatment) or refractory (not responding to treatment), have tumor and non-tumor specimens collected and sequenced to identify their molecular profiles. The information helps the care team personalize treatment plans, in addition to providing insight on why some cancers respond to therapy or recur despite treatment. As a result of CHOC's participation in CKCC, these patients will become the first in California to benefit from big data comparisons based on the large cancer genomic datasets gathered and shared by the participating sites.
"The Hyundai Cancer Institute at CHOC made a commitment 10 years ago to invest time and resources in building a strong infrastructure that supports innovative genomic medicine techniques, and we've made tremendous progress. The era of precision medicine is here, and we cannot work in isolation. The richer the data, the richer our insight, helping advance clinical leads and new hope for patients and their families," says Dr. Sender.