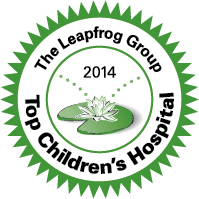 (ORANGE, Calif. Dec. 2, 2014) — The Leapfrog Group has named CHOC Children's Hospital to its annual list of Top Hospitals. An elite distinction awarded to hospitals nationwide for demonstrating excellence in hospital safety and quality through the Leapfrog Hospital Survey, the Leapfrog Top Hospital award is given to less than seven percent of all eligible hospitals. CHOC is one of only nine Top Children's Hospitals in the country and only two in the state.
"Leapfrog's Top Hospital award is widely acknowledged as one of the most prestigious distinctions any hospital can achieve in the United States. It recognizes institutions for their excellence in quality of care and patient safety, as well as their commitment to transparency. By achieving Top Hospital status, CHOC has proven it's a premier institution and deserves to be recognized for its dedication to its families and patients, "said Leah Binder, president and CEO of The Leapfrog Group.
CHOC was one of 94 Top Hospitals recognized nationally. The list includes:
24 Top Rural Hospitals
61 Top Urban Hospitals
Nine Top Children's Hospitals
Among the hospitals reaching this achievement are:
Academic medical centers
Teaching hospitals
Community hospitals in rural, suburban and urban settings
The selection is based on the results of The Leapfrog Group's annual hospital survey, which measures hospitals' performance on patient safety and quality, focusing on three critical areas of hospital care: how patients fare, resource use, and management structures established to prevent errors. Performance across many areas of hospital care is considered in establishing the qualifications for the award, including rates for high-risk procedures and a hospital's ability to prevent medication errors.
The Top Hospital award is not given to a set number of hospitals, but rather, to all urban, rural and children's hospitals that meet the high standards defined in each year's Top Hospitals Methodology.
To see the full list of institutions honored as a 2014 Top Hospital, please visit www.leapfroggroup.org/tophospitals.
 About The Leapfrog Group
The Leapfrog Group (www.leapfroggroup.org) is a national nonprofit organization using the collective leverage of large purchasers of health care to initiate breakthrough improvements in the safety, quality and affordability of health care for Americans. The flagship Leapfrog Hospital Survey allows purchasers to structure their contracts and purchasing to reward the highest performing hospitals. The Leapfrog Group was founded in November 2000 with support from the Business Roundtable and national funders and is now independently operated with support from its purchaser and other members. The Hospital Safety Score (www.hospitalsafetyscore.org) is an initiative of The Leapfrog Group.