The CHOC Padrinos Cardiovascular Intensive Care Unit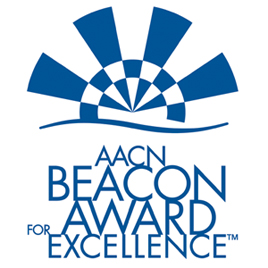 At the CHOC Padrinos Cardiovascular Intensive Care Unit, we understand children with heart conditions need very specialized care. Our 12-bed, all-private-room CVICU offers the latest technology and is staffed around the clock by cardiac-trained intensive care specialists, nurse practitioners and critical care registered nurses.
The CVICU has earned the silver-level Pediatric Beacon Award for Critical Care Excellence, an award presented by the American Association of Critical-Care Nurses (AACN). This recognition represents CHOC's extraordinary commitment to high quality critical care standards, and dedication to the exceptional care of patients and their families.
Top Technology and Staff
All of the CVICU rooms are outfitted with leading-edge technology equal to the demands of monitoring children after complex operations. This technology includes near infrared spectroscopy (NIRS) monitoring to non-invasively measure oxygen saturation, continuous venous oximetry as a marker of cardiac output, EEG monitoring for postoperative seizures, in-unit CT scanning and X-ray and extracorporeal life support (ECLS)—a life-saving technology not found anywhere else in Orange County.
In addition, rapid-assessment bedside ultrasound can be used at any time to instantly calculate pulmonary artery pressures and ejection fraction. The unit also includes two fully equipped rooms that transform into operating suites, enabling our specialists to perform emergency, life-saving procedures on children too unstable to be transported out of the unit. These rooms can also be combined with neighboring rooms, as needed, to accommodate extra equipment or family members visiting seriously ill children. Our CVICU also offers two negative air flow rooms with double door entry can be used to prevent the spread of possible contagious infections if required.
The staff in our CVICU is dedicated to providing our patients the very specialized care they need around the clock. In addition to round-the-clock bedside nursing care, the unit has dedicated, highly trained cardiac nurse practitioners, respiratory care and cardiac-trained intensive care physicians. When a new patient comes to the CVICU straight from surgery, operating room staff work one-to-one with their CVICU counterparts to make sure all of the patient's immediate and long-term needs are met and that crucial information is passed along to each staff member who will be providing the patient's care.
Committed to Patient and Family-centered Care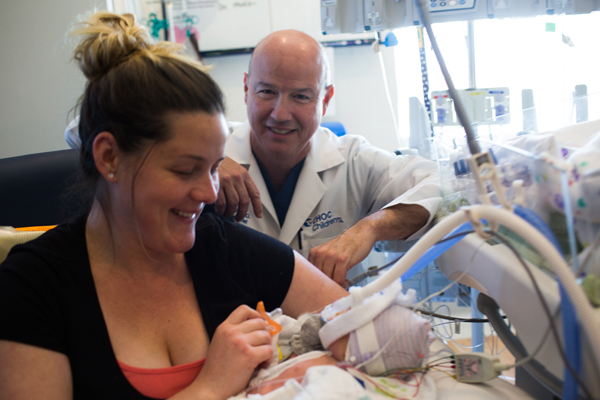 At the Heart Institute, we understand that when a child is ill and needs hospitalization, the entire family is affected. We invite CVICU parents to participate in daily multidisciplinary team rounds and encourage them to be active in the decisions that are made regarding their child's care.
Our compassionate and caring child life specialists support each patient and his or her parents and siblings by providing guidance on what to expect as the patient recovers. Specialists also bring activities, toys and movies while patients recover and help motivate children who may be reluctant to get out of bed after their procedure. Child life specialists even work with our tiniest infants to make sure they are held and played with while their family members are not able to be with them. In short, our child life specialists help kids stay kids while at CHOC.