CHOC Children's Partnership with the Disneyland Resort has Been Magical from the Start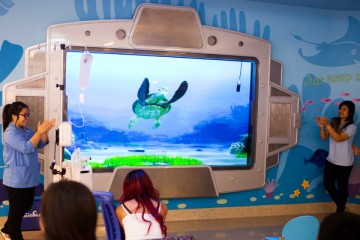 From Walt Disney's early fundraising efforts before the hospital was built, to the resort's $5 million gift toward construction of the new Bill Holmes Tower, CHOC and Disney have enjoyed a meaningful partnership.
Having a children's hospital in the community was important to Walt Disney, who in 1960 sat on the hospital's founding board. Early in CHOC's history, Disneyland artist Bob Moore designed beloved CHOC mascot Choco Bear. Disney artists also helped create the child-friendly feel of the lobby of the new Bill Holmes Tower, which houses the interactive "Turtle Talk with Crush" show donated by Walt Disney Imagineering.
Cumulatively, the Disneyland Resort is by far CHOC's largest corporate donor over the past 25 years, and the annual CHOC Walk in the Park at the Disneyland Resort is the hospital's largest fundraiser. Last year, the event raised more than $2.1 million. And every year, thousands of Disneyland Resort voluntEARS also donate countless hours to CHOC, often behind the scenes.