Dr. Elias Wehbi, Pediatric Urology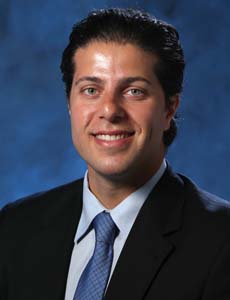 ---
Elias Wehbi MD

Appointments:
888-770-2462
Office: 714-509-3919
Specialty: Urology
Additional Languages: Arabic, French, Portuguese, Spanish
An expert in the field of urology, Dr. Elias Wehbi's clinical interests include complex reconstruction, urologic malignancies, renal transplantation and minimally invasive treatment for pediatric urology. In Canada, he helped perform the first laparoendoscopic single site (scarless) urologic surgeries for children.
An internationally-recognized urologist, Dr. Wehbi has published numerous publications in peer-reviewed journals, given presentations at national and international meetings, and received several awards for his novel clinical research. He has been an invited speaker and lecturer at various residency training programs.
Dr. Wehbi is board certified in urology. Prior to joining CHOC, Dr. Wehbi received his Royal College certification and medical doctorate at the University of Toronto. He completed his residency training in urology at the University Health Network in Toronto, and conducted his fellowship in pediatric urology at the Hospital for Sick Children in Toronto, Ontario.
Dr. Wehbi has an interest in international health, and has completed more than a dozen medical missions to Central America; service that has been recognized by his predecessors with humanitarian and patient care awards.
Elias Wehbi MD is on staff at CHOC Hospital in Orange .
Locations
CHOC Urology Center
505 S Main St 100
Orange, California 92868
phone: 714-509-3919
fax: 855-529-9704
Education
Medical School
University of Toronto Faculty of Medicine, Toronto, ON, Canada
Pediatric Urology Fellowship
Hospital for Sick Children, Toronto, ON, Canada
Urology Residency
University Health Network, Canada
Honors and Awards
Amgen Canada Fellows alliance 2012 AUA Winner
Patrick Hardy Award department of Surgery Award for Excellence in Patient Care
Professional Organizations
American Association of Pediatricians
American Urological Association
Canadian Medical Association
Canadian Medical Protective Association
Canadian Urological Association
Royal College of Physicians and Surgeons of Canada
Society of Pediatric Urology
Our urologists commonly treat: 
Videos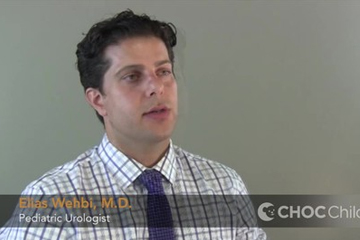 Circumcision Revision: Dr. Wehbi
Dr. Elias Wehbi, pediatric urologist at CHOC, tells us about circumcisions and when circumcisions need intervention for repair.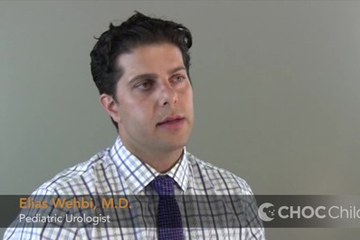 Hydroceles: Dr. Wehbi
In this video, Dr. Elias Wehbi, pediatric urologist at CHOC, talks about hydroceles in children and describes the most common type.