Dr. Pornchai Tirakitsoontorn, Pediatric Pulmonology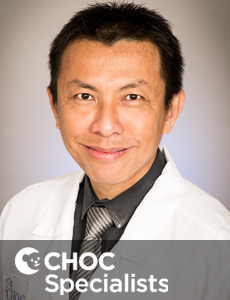 ---
Pornchai Tirakitsoontorn MD

Appointments:
888-770-2462
Office: 714-509-8622
Specialty: Pulmonology
Board Certified: Pediatrics, Pediatric Pulmonology
Pornchai Tirakitsoontorn, M.D. is a CHOC Specialist in Pulmonology board certified in Pediatric Pulmonology and General Pediatrics. Dr. Tirakitsoontorn is an associate professor in the department of Pediatrics at UC Irvine.
Dr. Tirakitsoontorn served his fellowship in Pediatric Pulmonology at UC Irvine/Miller Children's Hospital, Long Beach, California. He served as Chief Resident in Pediatrics and completed his residency training program at Seton Hall University, Jersey City Medical Center, Jersey City, New Jersey. Dr. Tirakitsoontorn received his doctorate at Chulalongkorn University, Bangkok, Thailand.
Prior to joining the CHOC Specialits, Dr. Tirakitsoontorn was an Associate Professor of Pediatrics at David Geffen School of Medicine at UCLA and Clinical Director of Pediatric Pulmonology Division at Mattel Children's Hospital UCLA. Dr. Tirakitsoontorn was the Director of Pediatric Pulmonary Medicine at Cedars-Sinai Medical Center and attending physician at Bumrungrad International Hospital in Thailand.
Dr. Tirakitsoontorn's research activities focus on the effect of exercise on growth, and cardiopulmonary function in patients with cystic fibrosis. His mission is to utilize exercise to the furthest extent as a therapeutic tool in helping them achieve a better quality of life and a longer life expectancy. Dr. Tirakitsoontorn has published a number of original articles and abstracts in peer-reviewed journals.
Dr. Tirakitsoontorn performs the following specialty procedures, flexible larngoscopy, bronchoscopy and bronchoalveolar, pulmonary function test and sleep study interpretation. Dr. Tirakitsoontorn's clinical interests include asthma, bronchopulmonary dysplasia (BPD), chronic cough, cystic fibrosis, and neuromuscular lung disease. Dr. Tirakitsoontorn speaks fluent English and Thai.
Dr. Tirakitsoontorn's philosophy is to provide the best care possible to all his patients and watch them grow up healthy.
Clinical Interests
asthma, bronchopulmonary dysplasia (BPD), chronic cough, cystic fibrosis, neuromuscular lung disease
Pornchai Tirakitsoontorn MD is on staff at CHOC Hospital in Orange and CHOC Mission Hospital.
Locations
CHOC Specialty Center – Newport Beach
500 Superior Ave. 140
Newport Beach, CA 92663
CHOC Clinic
1201 W. La Veta Ave. Building: CHOC Clinic
Orange, CA 92868
phone: 888-770-2462
fax: 855-246-2329
Education
Medical School
Chulalongkorn University, Bangkok, Thailand
Pediatric Pulmonary Fellowship
University of California, Irvine, CA
Pediatrics Residency
Seton Hall University/Jersey City Medical Center, Jersey City, NJ
Academic Appointments
Associate Clinical Professor, Pediatrics
University of California Irvine, School of Medicine
Administrative Appointments
Pulmonology, CHOC Specialists
Editorial Boards
American Journal of Respiratory and Critical Care Medicine
Journal of Medical Case Reports
Pediatric Allergy, Immunology, and Pulmonology
Lectures and Presentations
Bronchopulmonary Dysplasia
Chronic Cough in Children
Cystic Fibrosis: Emerging Therapies
Cystic Fibrosis
Pediatric Asthma
Pediatric Obstructive Sleep Apnea
Pulmonary Technology
Wheezing in Children
Professional Organizations
American Academy of Pediatrics
American College of Chest Physicians
American Thoracic Society
California Thoracic Society
Our pulmonologists commonly treat: 
Asthma
Pulmonary hypertension
Muscular dystrophy
Spinal muscular atrophy
Recurrent pneumonia
Pediatric sleep disorders/sleep apnea
Upper airway abnormalities
Infant apnea
Pulmonary complications of complex medical conditions
Chronic cough
Chronic lung disease
Tracheotomy care
Congenital lung abnormalities
Neuromuscular problems
Respiratory syncytial virus prevention