Dr. Sharonne Herbert, Pediatric Psychology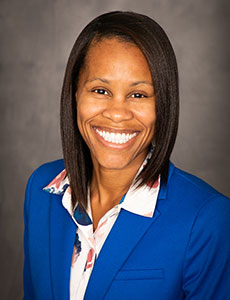 ---
Sharonne Herbert PhD

Appointments:
714-509-8481
Specialty: Psychology
Board Certified: Clinical Child and Adolescent Psychology
Dr. Sharonne Herbert is a board-certified clinical child and adolescent psychologist who leads the mental health emergency service, a consultation service designed to evaluate children and adolescents who present for mental health concerns at the emergency department (ED). She also coordinates outpatient clinic visits and inpatient mental health services to children, teens and young adults with hematological issues. She is passionate about working with parents of children with disruptive behavior disorders and children with anxiety, obsessive compulsive disorder and tic disorders. She is a member of Motivational Interviewing Network of Trainers and provides motivational interviewing workshops and trainings to professionals of various disciplines. In addition, Dr. Herbert supervises and mentors the psychology pre-doctoral interns during their ED rotation.
Sharonne Herbert PhD is on staff at CHOC Hospital in Orange .
Locations
CHOC Pediatric Psychology
1120 W La Veta Ave, Suite 470
Orange, CA 92868
phone: 714-509-8481
fax: 714-509-8756
Education
Oncology Psychology Post-Doctoral Fellowship
CHOC Hospital, Orange, CA
Pediatric Psychology Predoctoral Internship
Boston Children's Hospital, Boston, MA
Psychology School
University of Massachusetts, Amherst, MA
Professional Organization
American Psychological Association
Publications
Harvey, E. A., Herbert, S. D., & Stowe, R. (2015). Parenting hyperactive preschoolers: A clinician guide (Treatments that work series). New York: NY: Oxford University Press.
Harvey, E., Metcalfe, L. A., Herbert, S. D., & Fanton, J. (2011). The role of family experiences and ADHD in the early development of Oppositional Defiant Disorder. Journal of Consulting and Clinical Psychology, 79(6), 784-795. doi:10.1037/a0025672
Harvey, E., Stoessel, B., & Herbert, S. D. (2011). Parental psychopathology and parenting behavior of parents of preschool children with behavior problems. Parenting: Science & Practice, 11(4), 239-263. doi:10.1080/15295192.2011.613722
Herbert, S. D., Harvey, E. A., & Halgin, R. P. (2014). The balancing act—Ethical issues in parent training research: Confidentiality, harm reduction, and methodology. Ethics & Behavior, 25(3), 222-232. doi: 10.1080/10508422.2014.928777
Herbert, S. D., Harvey, E. A., Lugo-Candelas, C. I., & Breaux, R. P. (2013). Early fathering as a predictor of later psychosocial functioning among preschool children with behavior problems. Journal of Abnormal Child Psychology, 41(5), 691-703. doi: 10.1007/s10802-012-9706-8
Herbert, S. D., Harvey, E. A., Roberts, J. L., Wichowski, K., & Lugo-Candelas, C. I. (2013). A randomized controlled trial of a parent training and emotion socialization program for families of hyperactive preschool-aged children. Behavior Therapy, 44(2), 302-316. doi:10.1016/j.beth.2012.10.004
Lugo-Candelas, C. I., Harvey, E. A., Breaux, R. P., & Herbert, S. D. (2015, online). Ethnic difference in the relation between parental emotion socialization and mental health in emerging adults. Journal of Child and Family Studies, doi: 10.1007/s10826-015-0266-8