Dr. Adrianne Alpern - Pediatric Psychologist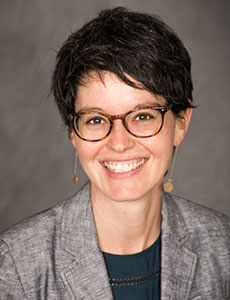 ---
Adrianne N Alpern Ph.D.

Office: 714-509-8481
Specialty: Psychology
Adrianne Alpern, Ph.D., is a licensed clinical psychologist who enjoys collaborating with children and families to bring out their strengths and improve their quality of life. She completed her doctorate in Clinical Psychology at the University of Miami, with a specialty in youth with chronic medical conditions. In addition, Dr. Alpern enjoys partnering with transgender youth to improve their social support and navigate their own unique challenges.
Dr. Alpern has authored and co-authored more than 40 national and international presentations, book chapters, and peer-reviewed journal articles. In her free time, she enjoys hiking, cooking, and playing a variety of stringed instruments.
Clinical Interests
Depression, anxiety, behavioral challenges, and family functioning in the context of chronic medical conditions, including cystic fibrosis, diabetes, spina bifida, epilepsy, and other conditions.
Research Focus
Development and evaluation of interventions to improve adherence to complex regimens, training healthcare providers to deliver behavioral interventions in routine care, development and psychometric validation of patient-reported outcome measures.
Adrianne N Alpern Ph.D. is on staff at CHOC Hospital in Orange .
Locations
CHOC Hospital 
1201 W La Veta Ave
Orange, CA  92868
Education
Psychology School
University of Miami, Miami, FL
Pediatric Psychology Fellowship
CHOC Hospital, Orange, CA
Publications
Alpern, A.N. McLean, K.A., Becker, E.M., Riekert, K.A., Quittner, A.L. (2016, October). Predictors of providers' competence delivering an adherence intervention. Presented at the North American Cystic Fibrosis Conference, Orlando, Florida.
Alpern, A.N., Kogan, B.A., Sandberg, D.E., Gardner, M., & Quittner, A.L. Development of health-related quality of life instruments for young children with disorders of sex development and their parents (2017). Journal of Pediatric Psychology 2015: 1-15.
Alpern, A.N., Brumback, L.C., Ratjen, F., Rosenfeld, M., Davis, S., & Quittner, A.L. (2015). Initial validation of the Cystic Fibrosis Questionnaire-Revised (CFQ-R) parent report in infants and young children. Journal of Cystic Fibrosis 14(3): 403-411.
Madan, A.S., Alpern, A.N., & Quittner, A.L. (2014). Transition from paediatric to adult cystic fibrosis care: a developmental framework. In M.A. Mall & J.S. Elborn (Eds.), European Respiratory Monograph: Cystic Fibrosis, 64, 272-285.
Quittner, A.L., Alpern, A.N., & Blackwell, L.S. (2013). Treatment adherence in adolescents with cystic fibrosis. In C. Castellani, S. Elborn, & H. Heijerman (Eds.), Health care issues and challenges in the adolescent with cystic fibrosis, (pp. 77-91). Oxford, UK: Elsevier Inc.
Alpern, A.N., Mclean, K.A., Marciel, K.K., Zhang, J., Riekert, K.A., Quittner, A.L. (2012, June). Clinical supervision improves treatment fidelity to an adherence intervention. Presented at the European Cystic Fibrosis Society Annual Meeting, Dublin, Ireland.