Dr. Nivedita N. More, Pediatrics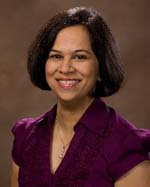 Dr. More attended medical school at Seth G.S. Medical College, KEM Hospital, Mumbai, India. She completed her internship at Metropolitan Medical Center, NY and her residency at Children's Hospital of Orange County. She is affiliated with the American Academy of Pediatrics and is board certified in Pediatrics.
Her philosophy of care is a solo pediatric practice with personal and individualized care for every patient. She treats all patients equally in an unbiased fashion, and believes routine well-child checks are important parts of preventive medicine. Dr. More also speaks Hindi.
Clinical Interests
Allergy and asthma
Research Focus
newborn care
Locations
Kidiatrics Medical Group, Inc.
22032 El Paseo 160
Rancho Santa Margarita, CA 92688
phone: (949) 766-5001
fax: (949) 766-5118
Education
Medical School
Seth G. S. Medical College
Pediatrics Residency
Children's Hospital of Orange County
Internship
Metropolitan Hospital – New York
Special Interests
Allergy and asthma, newborn care, developmental issues
Nivedita N More MD

Specialty: Pediatrics
Board Certified: Pediatrics
On Staff at: CHOC Children's at Mission Hospital