Dr. Fatema Esmail, Ophthalmology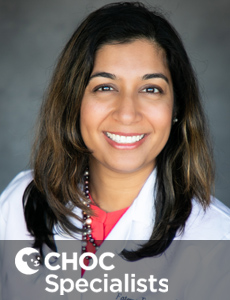 ---
Fatema Esmail MD

Appointments:
714-509-4490
Office: 714-509-4490
Specialty: Ophthalmology
Board Certified: American Board of Ophthalmology
Additional Languages: Spanish
Dr. Fatema Esmail is a board-certified pediatric ophthalmologist at CHOC in Orange County, California. As an expert in pediatric ophthalmology, Dr. Esmail cares for babies, young children, and teens with a wide variety of eye conditions. Her specialties include strabismus, amblyopia, pediatric cataracts, pediatric glaucoma, eyelid and lacrimal disorders and myopia control. She is also an expert at treating disorders related to various ocular manifestations of systemic diseases.
Dr. Esmail serves as the Assistant Division Chief of CHOC Specialists Ophthalmology. She is also involved in committees within the American Association of Pediatric Ophthalmology and Strabismus.
Her research interests include retinopathy of prematurity and amblyopia. Dr. Esmail has also co-authored a textbook chapter about pediatric cataract surgery.
"I chose to practice pediatric ophthalmology because a child's eyesight is deeply linked to their physical and mental health and development. I consider it my privilege to work with families during their children's early developmental phases, to help maximize their child's vision and allowing them to thrive."
Fatema Esmail MD is on staff at CHOC Hospital in Orange .
Location
CHOC Specialists, Ophthalmology
1201 W. La Veta Ave.
Orange, CA 92868
phone: 714-509-4490
fax: 714-509-7505
26732 Crown Valley Parkway, Ste 501,
Mission Viejo, Ca 92691
Education
Medical School
Mount Sinai School of Medicine, New York
Residency
Mount Sinai School of Medicine, New York
Fellowship
Emory Eye Center, Atlanta GA