Dr. Agnes Horvath, Pediatric Oncology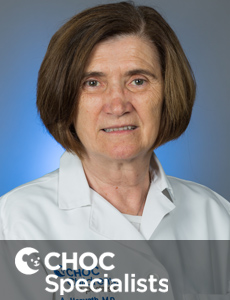 ---
Agnes Horvath MD

Appointments:
714-509-8636
Office: 714-509-4348
Specialties: Oncology, Pediatrics
Board Certified: Pediatrics, Pediatric Hematology/Oncology, Hospice and Palliative Medicine
Dr. Agnes Horvath is a pediatric hematology/oncology with CHOC Specialists. Dr. Horvath has been featured in various publications regarding treatment of leukemia in children. She has done collaborative research work on stem cell biology as a visiting investigator. Dr. Horvath is affiliated with the Institute of Functional Medicine.
Prior to joining CHOC Dr. Horvath attended medical school at Semmelweiss Medical School in Budapest, Hungary. He served her residency trainings in pediatrics at Hematology University Pediatric Clinic in Budapest and University of East Carolina Medical Center in Greenville, North Carolina. Dr. Hawthorne completed fellowship training in pediatric hematology/oncology at St. Jude Children's Research Hospital in Memphis, Tennessee and Memorial Sloan Kettering Cancer Center in New York.
Dr. Horvath is board certified in three specialties: pediatrics, pediatric hematology/oncology, and hospice and palliative medicine, giving her a combination of expertise not seen at many other hospitals. She puts this training to use as the medical director and founder of the CHOC supportive care program, which focuses solely on supporting patients and families outside of traditional medical care. Supportive care does not replace the medical care patients receive at CHOC, but it is offered alongside it. That includes helping manage symptoms, cope with feelings and minimize discomfort. "Research shows that patients who receive supportive care are more likely to live longer and have a better quality of life, with less suffering," Dr. Horvath says.
Supportive care that includes complementary and alternative medicine is rarely available at children's hospitals, making CHOC truly unique. Her goals for the supportive care program at CHOC are to establish communication, continuity of care, trust and respect with families. "We want to provide global, supportive care for every need," she says. "We work with our children and parents during decision-making. We help them set goals and listen to their values, and we respect their hopes."
Agnes Horvath MD is on staff at CHOC Hospital in Orange .
Location
Outpatient Clinic, Hyundai Cancer Institute at CHOC
1201 W. La Veta Avenue
Orange, CA 92868
phone: 714-509-8636
fax: 714-509-8699
Education
Medical School
Semmelweiss Medical School, Budapest, Hungary
Pediatric Residency
Hematology Residency at University Pediatric Clinic, Budapest, Hungary
Pediatric Residency
University of East Carolina Medical Centere, Greenville, NC
Fellowship
Pediatric Hematology/Oncology at St. Jude Children's Research Hospital, Memphis, TN
Fellowship
Pediatric Hematology/Oncology at Memorial Sloan Kettering Cancer Center, New York, NY
Administrative Appointments
Oncology, CHOC Specialists
Professional Organizations
Fellow, American Academy of Hospice and Palliative Medicine (FAAHPM)