Dr. Harshul Zaveri, Child Neurology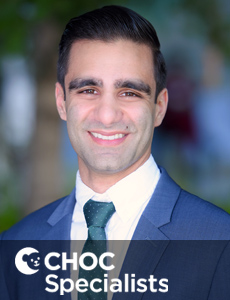 ---
Harshal A. Zaveri MD

Office: 714-509-7601
Specialty: Neurology
Board Certified: Child Neurology
Dr. Zaveri is board-certified by the American Board of Psychiatry and Neurology in Neurology with Special Qualifications in Child Neurology. He graduated Magna Cum Laude from the University of California Los Angeles with a Bachelors of Science and Departmental Honors in Neuroscience. Following that, he completed two years of service in Teach for America before attending medical school at the University of California San Diego. Following medical school, he completed his pediatrics and child neurology training at Childrens Hospital Los Angeles. He went on to complete an additional headache fellowship at Stanford. Dr. Zaveri has a particular interest in biotechnology and exploring new treatment options for headaches in pediatrics as well as an interest in sports.
As an expert in pediatric neurology, Dr. Zaveri cares for babies, kids, and teens with a wide variety of neurologic conditions. Dr. Zaveri serves as director of headache medicine. His goal is to bring a comprehensive, multidisciplinary headache program to Southern California. Dr. Zaveri recognizes that there are many factors that contribute to headache and that it takes a team to effectively partner with patients and parents on the road to wellness.
Harshal A. Zaveri MD is on staff at CHOC Hospital in Orange .
Locations
CHOC Specialists, Neurology
1201 W. La Veta Ave.
Orange CA 92868
phone: 714-509-7601
fax: 714-509-7650
Education
Medical School
UCSD School of Medicine, San Diego, CA
Residency
Children's Hospital of Los Angeles, Los Angeles, CA
Fellowship
Headache Medicine, Stanford University Medical Center, Stanford, CA