Dr. Terrie Inder, Director, Center for Neonatal Research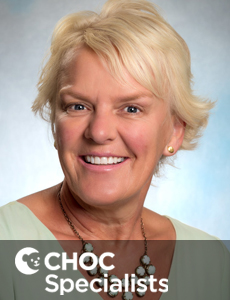 ---
Terrie E. Inder MD

Office: 714-509-3096
Specialty: Neonatology
Board Certified: Neonatal-Perinatal Medicine
Dr. Terrie Inder is a dual board-certified neonatologist who provides comprehensive care for critically ill premature and full-term infants and a child neurologist at CHOC in Orange County, California.
Dr. Inder's research focus is on the newborn brain. She also undertakes clinical service within the neonatal intensive care unit. As all her research activities are clinical investigations, the research studies and clinical care of high-risk infants are tightly integrated. Dr. Inder's primary research is targeted at understanding the timing, mechanisms and impact of cerebral injury and altered cerebral development in infants at high risk for adverse neurodevelopmental outcome, including the prematurely born infant, the sick term-born infant and the infant with congenital heart disease. Her aim in her investigations is to investigate means of accurate, early diagnosis of brain injury as well as developing treatments and preventive strategies to reduce subsequent disabilities. This research work has utilized technologies including near infrared spectroscopy, electroencephalography and magnetic resonance imaging.
Dr. Inder is the director of the new Center for Neonatal Research at CHOC, and she has held previous leadership positions in neonatal medicine as director of the Intellectual and Developmental Disabilities Research Center at Washington University in St Louis and the chair and Mary Ellen Avery Professor of the Department of Pediatric Newborn Medicine at the Brigham and Women's Hospital in Boston. Her mission has been to develop programs that integrate discovery and innovation alongside translation into clinical excellence while mentoring the next generation of academic clinicians.
Terrie E. Inder MD is on staff at CHOC Hospital in Orange .
Location
CHOC Specialists, Neonatology
1201 W. La Veta Avenue
Orange, CA 92868
phone: 714-509-3096
fax: 714-509-7800
Education
Medical School
University of Otago School of Medicine, Dunedin, New Zealand
Residency
Dunedin Hospital, Dunedin, New Zealand
Fellowship
Boston Children's Hospital, Boston, MA