Dr. Jasjit Singh, Pediatric Infectious Disease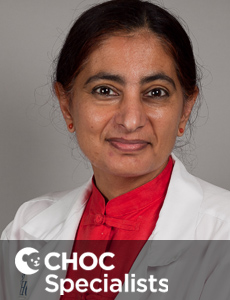 ---
Jasjit Singh MD

Appointments:
888-770-2462
Office: 714-509-8403
Specialty: Infectious Disease
Board Certified: Pediatrics, Pediatric Infectious Disease
Dr. Jasjit Singh is a pediatric infectious diseases subspecialist who currently serves as assistant director of the division for CHOC Specialists and the medical epidemiologist for CHOC Hospital. Her main interests are in the prevention of infection and vaccines, international health, and primary immunodeficiency conditions in children. She is active in clinical research, has presented her work at scientific meetings and has multiple publications. She has a passion for teaching medical students and residents, and gives frequent lectures at CHOC and in the community on a variety of infectious disease topics.
Dr. Singh is board certified in pediatric infectious diseases. Dr. Singh received her undergraduate degree at Harvard University, and her medical degree from the Duke University School of Medicine. She completed her pediatrics residency at Cornell University Medical Center in NY, where she also served as Chief Resident, before completing her subspecialty fellowship training in pediatric infectious diseases at Johns Hopkins Medical Center in Baltimore. Dr. Singh is dedicated to providing the best possible care to the children of Orange County through her expertise and experience.
Research Focus
vaccine trials, studies of new antimicrobial and antifungal agents
Jasjit Singh MD is on staff at CHOC Hospital in Orange .
Locations
CHOC Clinic
1201 W. La Veta Ave. Building: CHOC Clinic
Orange, CA 92868
phone: 888-770-2462
fax: 855-246-2329
Education
Medical School
Duke University School of Medicine, Durham, NC
Pediatrcs Residency
The New York Hospital-Cornell Medical Center, New York, NY
Pediatric Infectious Diseases Fellowship
Johns Hopkins University Hospital, Baltimore, MD
Academic Appointments
Associate Clinical Professor, Pediatrics
University of California, Irvine, College of Medicine
Associate Clinical Professor
UCI Pediatrics
Administrative Appointments
Associate Director, Pediatric Infectious Disease, CHOC
Chair, Infectious Diseases, CHOC
Infectious Disease, CHOC Specialist
Medical Director, Infection Prevention and Control, CHOC
Editorial Boards
Manual of Clinical Pediatrics
Pediatric Drugs
Pediatrics
Honors and Awards
Recipient of a Pediatric House Staff Award for Teaching contribution at CHOC
Multiple years
Orange County Medical Association Physicians of Excellence Award
Multiple years
Lectures and Presentations
AAP Section of Infectious Diseases
Antibiotic Jeopardy
Cocoon Vaccination Strategies
Immunizations
Infection Control in the Perinatal Unit
NICU M&M Conference: Maternal Vaccinations
Noteworthy Newsworthy Rashes
Panel Women in Medicine Symposium
Panel; Immunizations: Everything you need to know
Preventing Pertussis & Influenza – "Cocoon" Vaccination
Preventing Pertussis and Influenza: Cocoon Vaccination
Primary Immunodeficiencies
The Child with Too Many Infections
The Impact of Immunizations
The Peripatetic Pediatric Patient (or, Tots that Globe-Trot)
Update on Pediatric & Adult Vaccinations
Vaccine Hesitancy
Vaccine Safety Communication
Vaccine Update 2013
Vaccines – Current Recommendations
Noon Conference, UCI Allergy Division
Professional Organizations
American Society for Microbiology
Infectious Diseases Society of America
Society for Healthcare Epidemiology of America
The Western Society for Pediatric Research
Publications
Chuang M, Singh J, Ashouri N, Katz M, Arrieta A. Listeria Meningitis after Influximab Therapy for Ulcerative Colitis. Journal of Pediaric GI and Nutrition 2010;50(3):337-339.
Arrieta A, Shea K, Dhar V, Cleary J, Kukreja S, Morris M, Vargas-Shiraishi O, Ashouri N, Singh J. Once weekly Liposomal Amphotericin B as Candida Prophylaxis in Very Low Birth Weight Premature Infants: A Prospective, Randomized, Open-Label, Placebo-Controlled Pilot Study. Clinical Therapeutics 2010:3292) 265-271.
Green J, Singh J, Cheung M, Adler F, Ashouri N, Arrieta A. A cluster of pediatric endemic typhus cases in Orange County, California: Caser reports and literature review. Pediatr Infect Dis J. 2011 Feb;30(2):163-5
Arrieta A, Ashouri N, Vargas-Sharaishi O, Singh J. Streptococcus pneumoniae Bacteremia in Southern California Hospitalized Children after Implementation of Pneumococcal Conjugate Vaccine. J Pediatr Infect Dis 2011; 6(2) 111-115
Nieves D, Singh J, Ashouri N, Arrieta A, McGuire T, Adler-Shohet F. Clinical and laboratory features of pediatric pertussis disease at the onset of a California epidemic. J. Pediatr 2011, September 16.
Singh J, Esparza S, Patterson M, Vogel K, Patel B, Gornick W. Vancomycin Resistant Enterococcus In Pediatric Oncology Patients-Balancing Infection Prevention and Family Centered Care. J Pediatr Hematol Oncol 2012, May 22.
Chin, DM, Singh J, Holmes WN, Arrieta AC. Back mass in a 13 year-old boy. Pediatr Infect Dis J 2013 April;32(4): 422-23
Research Bio
Dr. Singh is very interested in studying infectious diseases, including vaccines and vaccine-preventable diseases. Dr. Singh's research interests include vaccines, particularly bacterial antigen vaccines, disease due to Streptococcus pneumoniae and Haemophilus Influenzae, and antibiotic resistance. She is also interested in researching respiratory diseases of early childhood in the developing world. Currently, her main area of research centers on participating in vaccine trials, as well as studies of new antimicrobial and antifungal agents. She is currently involved in 40 open studies.
Dr. Singh is dedicated to vaccine education and out reach to families and her peers. Dr. Singh has lectured throughout the United States and abroad about vaccines and infectious disease prevention. Closer to home, she is very involved in the Orange County Immunization Coalition's efforts.
Our infectious disease specialists commonly treat:
Infectious diseases, including those caused by multi-resistant bacteria
Congenital and perinatal infections, including HIV
Opportunistic infections in the immunocompromised patient
Immunocompromised host
Respiratory infections
Viral and fungal infections
Recurrent fever or fever of unknown origin
Hepatitis A, B, C delta, E and G, as well as non-A – G
Tuberculosis and Lyme disease
Coccidiomycosis and other endemic fungal infections
Travel medicine for children
Health Topics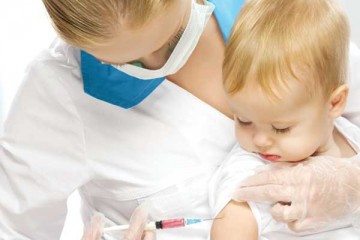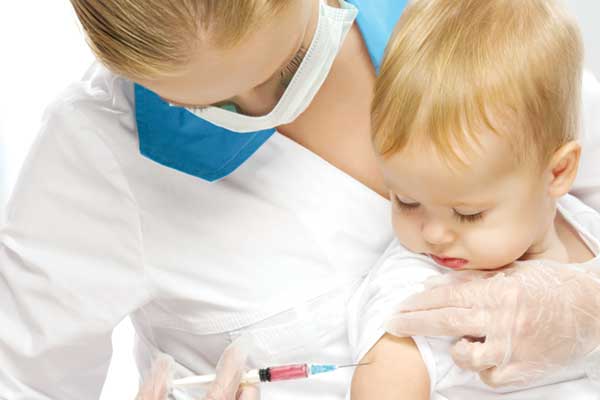 The Truth About Vaccines
Some parents do not vaccinate their children, believing myths that vaccines are dangerous or cause disorders like autism. Learn what the experts say in this health feature.
Infectious Disease Articles
---