Dr. Neda Zadeh, Pediatric Genetics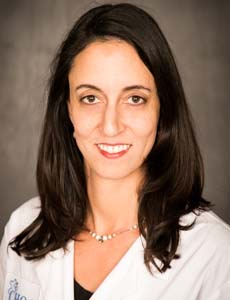 ---
Neda Zadeh MD

Appointments:
714-288-3500
Office: 714-288-3500
Specialty: Genetics
Board Certified: Clinical Genetics, Clinical Molecular Genetics, Pediatrics
Additional Languages: Spanish
At the forefront of genetics and genomics research and well-versed in the latest treatments, Dr. Neda Zadeh is dedicated to caring for patients with developmental disabilities, genetic disorders and birth defects. She has a strong interest in neurofibromatosis type 1 (NF1) and other neurocutaneous genetic conditions, muscular dystrophies, craniofacial disorders, and the genetics of autism. Dr. Zadeh has authored many abstracts, journal articles and book chapters.
Dr. Zadeh is a medical geneticist in the division of medical genetics at CHOC, director of the NF clinic at CHOC and the associate director of the Molecular Diagnostic Laboratory at Genetics Center. Dr. Zadeh joined the medical staff at CHOC after completing her internship and residency training in pediatrics at CHOC. She completed a fellowship in clinical genetics at Stanford University and a fellowship in clinical molecular genetics at UCLA. Dr. Zadeh received her medical degree from UCLA School of Medicine.
Dedicated to clinical excellence, Dr. Zadeh is board certified in clinical genetics, clinical molecular genetics and in pediatrics. She is a fellow of the American College of Medical Genetics and Genomics (ABMGG) and of the American Academy of Pediatrics (AAP).
Neda Zadeh MD is on staff at CHOC Hospital in Orange .
Locations
CHOC Specialty Clinic
1201 W. La Veta Ave.
Orange, CA 92868
phone: 714-288-3500
fax: 714-288-3510
Genetics Center
211 S Main St
Orange, CA 92868
Education
Medical School
University of California, Los Angeles School of Medicine
Internship and Residency – Pediatric
CHOC Hospital, Orange, CA
Fellowship – Clinical Genetics
Stanford University, Stanford, CA
Fellowship – Clinical Molecular Genetics
University of California, Los Angeles, CA
Administrative Appointments
Director, Molecular Diagnostic Laboratory, Genetics Center
Professional Organizations
American College of Genetics and Genomics (ACMG)
American Medical Association
Publications
1. Phenotypic expansion of POGZ-related intellectual disability syndrome (White-Sutton syndrome).
Assia Batzir N, Posey JE, Song X, Akdemir ZC, Rosenfeld JA, Brown CW, Chen E, Holtrop SG, Mizerik E, Nieto Moreno M, Payne K, Raas-Rothschild A, Scott R, Vernon HJ, Zadeh N; Baylor-Hopkins Center for Mendelian Genomics, Lupski JR, Sutton VR.
Am J Med Genet A. 2020 Jan;182(1):38-52. doi: 10.1002/ajmg.a.61380. Epub 2019 Nov 29.
PMID: 31782611 Free PMC article.
2. KCNK9Imprinting Syndrome.
Zadeh N, Graham JM Jr.
2017 Mar 23. In: Adam MP, Ardinger HH, Pagon RA, Wallace SE, Bean LJH, Gripp KW, Mirzaa GM, Amemiya A, editors. GeneReviews® [Internet]. Seattle (WA): University of Washington, Seattle; 1993–2022.
PMID: 28333430 Free Books & Documents. Review.
3. Diagnosis and management of familial Mediterranean fever: integrating medical genetics in a dedicated interdisciplinary clinic.
Zadeh N, Getzug T, Grody WW.
Genet Med. 2011 Mar;13(3):263-9. doi: 10.1097/GIM.0b013e31820e27b1.
PMID: 21317656 Review.
4. REST Final-Exon-Truncating Mutations Cause Hereditary Gingival Fibromatosis.
Bayram Y, White JJ, Elcioglu N, Cho MT, Zadeh N, Gedikbasi A, Palanduz S, Ozturk S, Cefle K, Kasapcopur O, Coban Akdemir Z, Pehlivan D, Begtrup A, Carvalho CMB, Paine IS, Mentes A, Bektas-Kayhan K, Karaca E, Jhangiani SN, Muzny DM; Baylor-Hopkins Center for Mendelian Genomics, Gibbs RA, Lupski JR.
Am J Hum Genet. 2017 Jul 6;101(1):149-156. doi: 10.1016/j.ajhg.2017.06.006.
PMID: 28686854 Free PMC article.
5. Syndromic neurodevelopmental disorder associated with de novo variants in DDX23.
Burns W, Bird LM, Heron D, Keren B, Ramachandra D, Thiffault I, Del Viso F, Amudhavalli S, Engleman K, Parenti I, Kaiser FJ, Wierzba J, Riedhammer KM, Liptay S, Zadeh N, Porrmann J, Fischer A, Gößwein S, McLaughlin HM, Telegrafi A, Langley KG, Steet R, Louie RJ, Lyons MJ.
Am J Med Genet A. 2021 Oct;185(10):2863-2872. doi: 10.1002/ajmg.a.62359. Epub 2021 May 29.
PMID: 34050707
6. Expanding the genotypic and phenotypic spectrum in a diverse cohort of 104 individuals with Wiedemann-Steiner syndrome.
Sheppard SE, Campbell IM, Harr MH, Gold N, Li D, Bjornsson HT, Cohen JS, Fahrner JA, Fatemi A, Harris JR, Nowak C, Stevens CA, Grand K, Au M, Graham JM Jr, Sanchez-Lara PA, Campo MD, Jones MC, Abdul-Rahman O, Alkuraya FS, Bassetti JA, Bergstrom K, Bhoj E, Dugan S, Kaplan JD, Derar N, Gripp KW, Hauser N, Innes AM, Keena B, Kodra N, Miller R, Nelson B, Nowaczyk MJ, Rahbeeni Z, Ben-Shachar S, Shieh JT, Slavotinek A, Sobering AK, Abbott MA, Allain DC, Amlie-Wolf L, Au PYB, Bedoukian E, Beek G, Barry J, Berg J, Bernstein JA, Cytrynbaum C, Chung BH, Donoghue S, Dorrani N, Eaton A, Flores-Daboub JA, Dubbs H, Felix CA, Fong CT, Fung JLF, Gangaram B, Goldstein A, Greenberg R, Ha TK, Hersh J, Izumi K, Kallish S, Kravets E, Kwok PY, Jobling RK, Knight Johnson AE, Kushner J, Lee BH, Levin B, Lindstrom K, Manickam K, Mardach R, McCormick E, McLeod DR, Mentch FD, Minks K, Muraresku C, Nelson SF, Porazzi P, Pichurin PN, Powell-Hamilton NN, Powis Z, Ritter A, Rogers C, Rohena L, Ronspies C, Schroeder A, Stark Z, Starr L, Stoler J, Suwannarat P, Velinov M, Weksberg R, Wilnai Y, Zadeh N, Zand DJ, Falk MJ, Hakonarson H, Zackai EH, Quintero-Rivera F.
Am J Med Genet A. 2021 Jun;185(6):1649-1665. doi: 10.1002/ajmg.a.62124. Epub 2021 Mar 30.
PMID: 33783954
7. De novo missense variants in PPP1CB are associated with intellectual disability and congenital heart disease.
Ma L, Bayram Y, McLaughlin HM, Cho MT, Krokosky A, Turner CE, Lindstrom K, Bupp CP, Mayberry K, Mu W, Bodurtha J, Weinstein V, Zadeh N, Alcaraz W, Powis Z, Shao Y, Scott DA, Lewis AM, White JJ, Jhangiani SN, Gulec EY, Lalani SR, Lupski JR, Retterer K, Schnur RE, Wentzensen IM, Bale S, Chung WK.
Hum Genet. 2016 Dec;135(12):1399-1409. doi: 10.1007/s00439-016-1731-1. Epub 2016 Sep 28.
PMID: 27681385 Free PMC article.
8. Project Baby Bear: Rapid precision care incorporating rWGS in 5 California children's hospitals demonstrates improved clinical outcomes and reduced costs of care.
Dimmock D, Caylor S, Waldman B, Benson W, Ashburner C, Carmichael JL, Carroll J, Cham E, Chowdhury S, Cleary J, D'Harlingue A, Doshi A, Ellsworth K, Galarreta CI, Hobbs C, Houtchens K, Hunt J, Joe P, Joseph M, Kaplan RH, Kingsmore SF, Knight J, Kochhar A, Kronick RG, Limon J, Martin M, Rauen KA, Schwarz A, Shankar SP, Spicer R, Rojas MA, Vargas-Shiraishi O, Wigby K, Zadeh N, Farnaes L.
Am J Hum Genet. 2021 Jul 1;108(7):1231-1238. doi: 10.1016/j.ajhg.2021.05.008. Epub 2021 Jun 4.
PMID: 34089648 Free PMC article.
9. Chromosomal contacts connect loci associated with autism, BMI and head circumference phenotypes.
Loviglio MN, Leleu M, Männik K, Passeggeri M, Giannuzzi G, van der Werf I, Waszak SM, Zazhytska M, Roberts-Caldeira I, Gheldof N, Migliavacca E, Alfaiz AA, Hippolyte L, Maillard AM; 2p15 Consortium; 16p11.2 Consortium, Van Dijck A, Kooy RF, Sanlaville D, Rosenfeld JA, Shaffer LG, Andrieux J, Marshall C, Scherer SW, Shen Y, Gusella JF, Thorsteinsdottir U, Thorleifsson G, Dermitzakis ET, Deplancke B, Beckmann JS, Rougemont J, Jacquemont S, Reymond A.
Mol Psychiatry. 2017 Jun;22(6):836-849. doi: 10.1038/mp.2016.84. Epub 2016 May 31.
PMID: 27240531 Free PMC article.
10. Effect of Whole-Genome Sequencing on the Clinical Management of Acutely Ill Infants With Suspected Genetic Disease: A Randomized Clinical Trial.
NICUSeq Study Group, Krantz ID, Medne L, Weatherly JM, Wild KT, Biswas S, Devkota B, Hartman T, Brunelli L, Fishler KP, Abdul-Rahman O, Euteneuer JC, Hoover D, Dimmock D, Cleary J, Farnaes L, Knight J, Schwarz AJ, Vargas-Shiraishi OM, Wigby K, Zadeh N, Shinawi M, Wambach JA, Baldridge D, Cole FS, Wegner DJ, Urraca N, Holtrop S, Mostafavi R, Mroczkowski HJ, Pivnick EK, Ward JC, Talati A, Brown CW, Belmont JW, Ortega JL, Robinson KD, Brocklehurst WT, Perry DL, Ajay SS, Hagelstrom RT, Bennett M, Rajan V, Taft RJ.
JAMA Pediatr. 2021 Dec 1;175(12):1218-1226. doi: 10.1001/jamapediatrics.2021.3496.
PMID: 34570182 Free PMC article.
Books and Chapters
Zadeh N, Hudgins L. Human Malformations and Related Anomalies. 3rd ed. Stevenson RE, Hall JG, Everman DR, Solomon BD, editors. New York: Oxford University Press; 2015. Chapter 3 and 4, Pectoral and Pelvic Girdles; Spine and Ribs1024p.
Zadeh N. Neonatology. 1 ed. Sunshine P, Stevenson D, Cohen R, editors. New York: McGraw-Hill Education/Medical; 2015. Common Dysmorphic Syndromes1408p.
Zadeh N. Duane's Ophthalmology. 2013 Edition ed. Tasman W, Jaeger EA, editors. New York: LWW; 2013. The Phakomatoses.
Meeting Abstracts
Sutherland T, Zadeh N, Southern Reh C. Genetic findings in a subject with type 1 diabetes mellitus and congenital adrenal hyperplasia. Endocrine Society Meeting; 2015 March; San Diego, CA, USA. c 00 .
Zadeh N, Nicholls A, Kaplan LJ, Zadeh T. Patient with SMC1A partial gene deletion without facial features of Cornelia de Lange syndrome. David W. Smith Workshop on Malformations; 2013 September; Mont Tremblant, Quebec, Canada. c 00 .
Brennan M, Adam MP, Seaver LH, Myers A, Zadeh N, et al. Increased body mass during infancy and toddlerhood in Angelman syndrome patients with uniparental disomy and imprinting center changes. David W Smith Workshop on Malformations; 2012 September; c 00
Zadeh N, Zadeh T. Two patients with similar 8p23.1 deletions and differing phenotypes: case report and review of the medical literature. David W. Smith Workshop on Malformations; 2011 September; Los Angeles, CA, USA. c 00
Zadeh N, Casson-Parkin S, Lachman R, Manning M, Bernstein J. Variable expressivity of spondyloepiphyseal dysplasia tarda with progressive arthropathy (SEDT-PA) in a multiplex family.. David W Smith Workshop on Malformations; 2010; Union, WA, USA. c 00 .
Zadeh N, Zadeh T, Manning M. Abnormal methylation of LIT1 in female monozygotic twins discordant for Beckwith-Wiedemann syndrome. WSPR; 2010; Carmel, CA, USA. c 00
Zadeh N, Hudgins L, Norton ME. Nuchal translucency measurements in fetuses with spinal muscular atrophy. American College of Medical Genetics; 2010; Albuquerque, NM. c 00
Zadeh N, Sureka D, Slattery L, Hudgins L. Otocephaly and heterotaxy; possible mechanisms. David W. Smith Workshop on Malformations; 2009; Philadelphia, PA, USA. c 00 .
Zadeh N, Kwan A, Hudgins L. Morphological features in Netherton syndrome. WSPR; 2009; Carmel, CA, USA. c 00
Cusmano-Ozog K, Moore T, Niemi A, Zadeh N, Cowan T, et al. Evidence of redox imbalance in a patient with methylmalonic academy (mut0). SIMD; 2010; c 00 .
Bernstein J, Merker J, Zadeh N, Cherry A. Identification of a 2 MB deletion within 15q14 by oligonucleotide array CGH narrows the cleft palate critical region at this locus. American College of Medical Genetics; 2009; c 00
Videos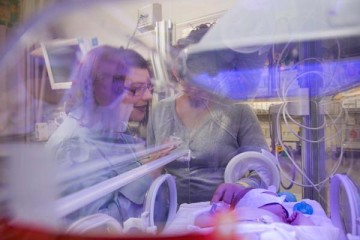 Health Topics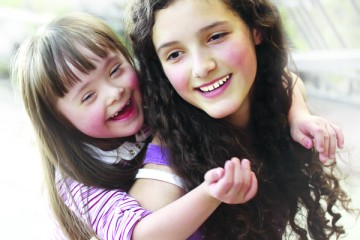 The Truth About Genetics
Medical genetics involves the study of inherited diseases. The field includes genetic counseling and testing, and their application to patient care in the practice of medicine.