Dr. Peter T. Yu, Pediatric General and Thoracic Surgeon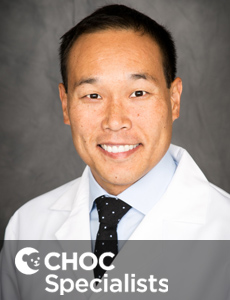 ---
Peter T Yu MD

Appointments:
714-364-4050
Specialty: Pediatric Surgery
Board Certified: General Surgery, Surgical Critical Care, Pediatric Surgery
Dr. Peter Yu is an accomplished pediatric surgeon with education and training from the finest institutions in the United States. This background and experience has translated into high-quality, effective care with a patient-centered and data-driven approach. He strongly believes that the key factors in an excellent surgical outcome are compassion, technical excellence and clear communication with patients, their families, his surgical team and referring physicians.
Dr. Yu hails from St. Louis. He earned an undergraduate degree in psychology from Stanford University with an additional master's degree in biology coursework at Washington University in St. Louis. His medical education was completed at the University of Missouri, Columbia. His internship, residency and research fellowship in general surgery were completed at UC San Diego, where he also served as chief resident. Dr. Yu also completed fellowships at Boston Children's Hospital and The Children's Hospital of Philadelphia. He is board-certified in three specialties: general surgery, surgical critical care and pediatric surgery.
In addition to his clinical practice, Dr. Yu has secured research grants and has an extensive list of publications with a focus on outcomes research. He consistently presents lectures at national conferences and is a member of several professional associations dedicated to the advancement of surgical care for children. He completed a master's degree of public health from Johns Hopkins Bloomberg School of Public Health.
Dr. Yu is a compassionate physician dedicated to working together with community pediatricians to treat and heal the children of Orange County and beyond. His inpatient expertise spans the breadth of pediatric surgery, including fetal surgery, neonatal surgery and trauma, and his outpatient expertise includes thoracic surgery, abdominal surgery, minimally invasive surgery, tumors, pediatric hernias, hydrocele and circumcision.
Clinical Interests
Neonatal surgery, perinatal counseling, pediatric laparoscopic surgery and hernia surgery.
Peter T Yu MD is on staff at CHOC Hospital in Orange .
Locations
CHOC Specialists – Pediatric Surgery
505 S. Main St.,  #225
Orange, CA 92868
phone: 714-364-4050
fax: 714-364-4051
Education
Undergraduate
Stanford University, Stanford, CA
Medical School
University of Missouri School of Medicine, Columbia, MO
General Surgery Residency
University of California San Diego, La Jolla, CA
Surgical Critical Care Fellowship
Boston Children's Hospital, MA
Pediatric Surgery Fellowship
Children's Hospital of Philadelphia, PA
Master of Public Health
Johns Hopkins Bloomberg School of Public Health, Baltimore, Maryland
Professional Organizations
American College of Surgeons
Society of Critical Care Medicine
American Pediatric Surgical Association
American Academy of Pediatrics Section on Surgery
American Medical Association
Publications
Yu, P.T., Parsa P.V., Hassanein O., Rogers S.O., Chang D.C. Minorities Struggle to Advance in Academic Medicine: A 12-Year Review of Diversity at the Highest Levels of America's Teaching Institutions. Journal of Surgical Research. 2013 Jun 15;182(2):212-8.
Ramirez, M., Chang D.C., Rogers S.O., Yu P.T., Easterlin M, Coimbra R., Kobayashi, L. Can Universal Coverage Eliminate Health Disparities? Reversal of Disparate Injury Outcomes in Elderly Insured Minorities. Journal of Surgical Research. 2013 Jun 15;182(2):264-9.
McLemore, E., Coker, A., Leland H., Yu P.T., Devaraj B., Jacobsen G., Talamini M., Horgan S., Ramamoorthy S. New Disposable Transanal Endoscopic Surgery Platform: Longer Channel, Longer Reach. Global Journal of Gastroenterology & Hepatology. 2013 June;1, 36-40.
C.R. Harnsberger, E.C. McLemore, R.C. Broderick, P.T. Yu, M.A. Berducci, C. Beck, H.F. Fuchs, G.R. Jacobsen, S. Horgan. "Foramen of Winslow Hernia: A Minimally Invasive Approach." Surgical Endoscopy. 2014 November 1. Epub ahead of print.
Our pediatric general and thoracic surgeons commonly perform the following surgeries: 
Circumcision (not newborn)
Congenital Pulmonary Airway Malformation (CCAM/CPAM)
Gall Stones (Cholecystectomy)
GERD (Fundoplications)
Hydrocele
Intussusception
Lumps & Bumps
Malrotation
Pectus Excavatum (Nuss procedure)
Precocious Puberty (Supprelin Implants)
Undescended Testicle (Orchiopexy)
A Day in the Life of Pediatric Surgeon Dr. Peter Yu
5:00 a.m.: Alarm rings. I hit snooze once, for an additional 9 minutes of peace. Then it is time to get up and at 'em. In the dark, I attempt to avoid injuring myself on the various toys that are strewn about the house–one of the hazards that comes with raising young children. I start the coffee maker, brush my teeth, shave, get dressed and kiss my slumbering family good-bye. Then it is off to swim practice.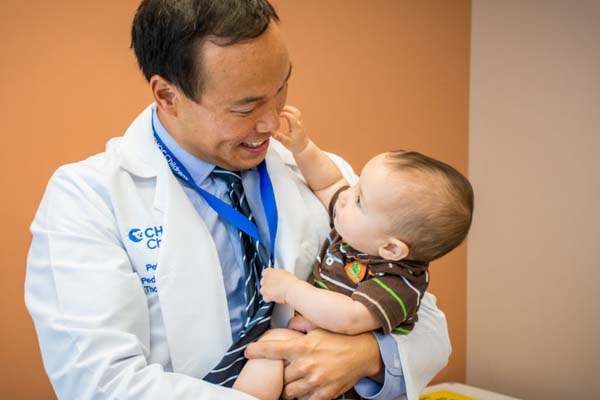 Videos