Dr. John C. German, Pediatric Surgery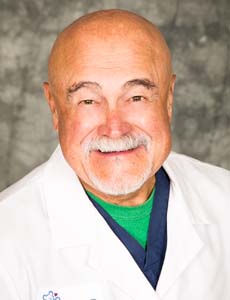 For more than 35 years, Dr. German has taken a leadership role in shaping pediatric surgery in Orange County. He received his medical training at the University of California, Irvine, and currently serves as an assistant professor. He helped develop neonatal ECMO support and NEC care by developing staging criteria for surgery. Dr. German was an early pioneer in the CHOC ECMO program as well as techniques for minimally invasive surgeries.
As a recognized expert in pediatric surgery, Dr. German has served on multiple committees of national societies, including the American Pediatric Surgery Association. He served on the board of governors for the American College of Surgeons for six years. Additionally, he has been active in the Southern California Chapter of the American College of Surgeons, where he has held every position including president.
Dedicated to clinical excellence, Dr. German is board certified in general surgery. Prior to joining CHOC, Dr. German attended medical school at UCI College of Medicine in Irvine, California. He completed his internship and residency in general surgery at UCI Medical Center and conducted his fellowship in pediatric surgery at Children's Hospital of Los Angeles, California.
Locations
Pediatric Surgical Associates
396 S. Main St, Suite 200
Orange, CA 92868
phone: 714-361-4480
fax: 714-361-4490
CHOC Clinic
1201 W. La Veta Ave. Building: CHOC Clinic
Orange, California 92868
CHOC Health Center – Mission Viejo
26691 Plaza, Suite 130
Mission Viejo, CA 92691
Education
General Surgery Residency
UCI Medical Center, Orange, CA
Medical School
UCI College of Medicine, Irvine, CA
Pediatric Surgery Fellowship
Children's Hospital of Los Angeles, CA
Rotating Internship
UCI Medical Center, Orange, CA
Administrative Appointments
Pediatric Surgery, CHOC Specialists
Professional Organizations
American Academy of Pediatrics
American College of Surgeons
American Pediatric Surgical Association (APSA)
British Association of Pediatric Surgeons
Pacific Association of Pediatric Surgeons
Pacific Coast Surgical Association
John C German MD

Appointments:
714-361-4480
Office: 714-361-4480
Specialty: Pediatric Surgery
Board Certified: General Surgery
On Staff at: CHOC Hospital in Orange and CHOC at Mission Hospital
Videos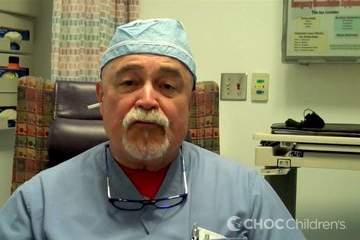 In this video, pediatric surgeon Dr. John German answers a parent's question about being with his child after surgery.