Dr. Michael K. Wang, Pediatric Gastroenterology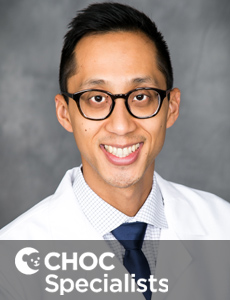 ---
Michael K Wang DO

Office: 714-509-4099
Specialty: Gastroenterology
Board Certified: Pediatrics, Pediatric Gastroenterology
Dr. Michael Wang is a pediatric gastroenterologist with expertise in caring for infants, children, and young adults with a wide range of gastrointestinal and hepatobiliary disorders. His clinical practice is focused on providing compassionate, comprehensive care centered around patients and their families. Dr. Wang is specialized in inflammatory bowel disease (IBD) including Crohn's disease and ulcerative colitis, as well as IBD research.
In the multidisciplinary IBD program at CHOC, patients have access to a full spectrum of services including pediatric surgeons, registered dietitians, social workers, and nurse coordinators. We work together with each family to align the most up-to-date medical evidence with each patient's individual needs and priorities.
Michael K Wang DO is on staff at CHOC Hospital in Orange .
Locations
CHOC Clinic
1201 W. La Veta Ave.
Building: CHOC Clinic
Orange, CA 92868
Education:
Medical School
University of North Texas Health Science Center, Fort Worth, TX
Pediatrics Residency
Children's Memorial Hermann Hospital, Houston, TX
Pediatric Gastroenterology Fellowship
Texas Children's Hospital, Houston, TX
Published Works
Kandavel P, Eder SJ, Adler J et al; and the ImproveCareNow Network Pediatric IBD Learning Health System. Reduced Systemic Corticosteroid Use among Pediatric Patients With Inflammatory Bowel Disease in a Large Learning Health System. J Pediatr Gastroenterol Nutr. 2021 Sep 1;73(3):345-351.
Queliza K, Wang MK, Kellermayer R. Compliance With Fecal Calprotectin Testing in Pediatric Patients With Inflammatory Bowel Disease. J Pediatr Gastroenterol Nutr. 2018 Jun;66(6):932-933
Wang MK, Ng K. Isolated appendiceal pinworms on colonoscopy. J Pediatr Gastroenterol Nutr. 2017 June;64(6):e155. PMID: 28045771 (http://journals.lww.com/jpgn/fulltext/2017/06000/Isolated_Appendiceal_Pinworms_on_Colonoscopy.35.aspx)
Toy, Lahoti, Yetman, Hormann, Girardet, McNeese, Sanders, Geltemeyer. Case Files Pediatrics 5th Edition. New York: McGraw-Hill Education/Medical 2015 (Wang M, contributing author to Kawasaki disease, Neonatal Herpes Simplex Virus chapters)
Alviar C, Tellez A, Wang M, Potts P, Smith D, et al. Low-dose sirolimus-eluting hydroxyapatite coating on stents does not increase platelet activation and adhesion ex vivo. Journal of Thrombosis and Thrombolysis. Journal 34, Volume 1 (2012), 91-98
Poster Presentations
Ada M, Wang M. Celiac Disease Presenting in a Toddler with Recurrent Intussusception. NASPGHAN Annual Meeting. October 2022
Visnagra K, Wang M. Tofacitinib Use in Pediatric Patient with Ulcerative Colitis Receiving Monthly Immunoglobulin Infusions for Immunodeficiency. NASPGHAN Annual Meeting. October 2022
Ada M, Wang M. Mycophenolate Mofetil-Induced Colitis in a Teenager Following Kidney Transplant. NASPGHAN Annual Meeting. October 2021
Wang MK, Raj P, Fishman DS, Kellermayer R. Fecal calprotectin is a valuable screening tool in a large North American pediatric gastroenterology center. World Congress of Pediatric Gastroenterology, Hepatology and Nutrition. October 6, 2016. Montreal, QC, Canada.
Poster of Distinction
Queliza K, Wang MK, Kellermayer R. Good Compliance with Fecal Calprotectin Testing in Pediatric Inflammatory Bowel Disease Patients. NASPGHAN 2017
Videos