Dr. Kimberly A. Silva, Pediatric Gastroenterology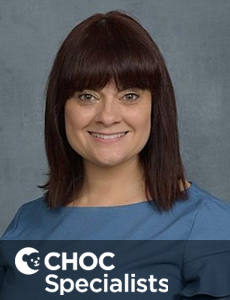 ---
Kimberly A. Silva MD

Office: 888-770-2462
Specialty: Gastroenterology
Board Certified: Pediatric Gastroenterology, Pediatrics
Dr. Kimberly Silva is a board certified pediatric gastroenterologist who provides comprehensive care for infants, children, and adolescents with gastrointestinal, hepatic biliary, and pancreatic disorders. She has an interest in liver disease and is one of the liver clinic team members.
Dr. Silva attended medical school at the University of Iowa Carver College of Medicine. She completed her pediatric residency training at UC Irvine, followed by a pediatric chief year for UC Irvine and UCI-CHOC pediatric residency programs. Dr. Silva completed her pediatric gastroenterology fellowship at UCLA. She received extensive training in nutrition, liver disorders, and liver transplantation during her fellowship.
Dr. Silva is available to patients at CHOC Hospital in Orange, CHOC at Mission Hospital, and CHOC Health Center in Corona.
Kimberly A. Silva MD is on staff at CHOC Hospital in Orange .
Locations
CHOC Specialists, Gastroenterology
1201 W. La Veta Ave.
Orange, CA 92868
phone: 888-770-2462
fax: 855-246-2329
CHOC Health Center, Mission Viejo
26691 Plaza, Suite 130
Mission Viejo, CA 92691
CHOC Health Center, Corona
854 Magnolia Ave, #101
Corona, CA 92879
Education
Medical School
University of Iowa Carver College of Medicine, Iowa City, IA
Pediatrics Residency
UC Irvine, Irvine, CA
Pediatric Gastroenterology Fellowship
UCLA, Los Angeles, CA
Our gastroenterologists commonly treat:
Abdominal pain
Diarrhea
Inflammatory bowel disease
Celiac disease
Constipation
Growth failure
Pancreatic disorders
Nutritional problems
Feeding problems and dysphagia
Gastroesophageal reflux
Eosinophilic esophagitis
Parenteral nutrition and enteral nutrition support
Gastrointestinal motility disorders
Liver/biliary abnormalities