Dr. Keren Appel, Pediatric Gastroenterology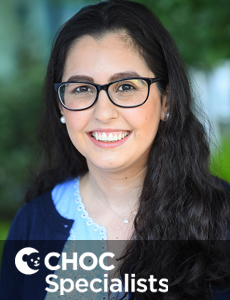 ---
Keren L. Appel MD

Office: 714-509-4099
Specialty: Gastroenterology
Board Certified: Pediatrics
Dr. Keren Appel is a pediatric gastroenterologist with expertise in caring for infants, children, and young adults with a wide range of gastrointestinal and hepatobiliary disorders. Her clinical practice is focused on providing compassionate, comprehensive care centered around patients and their families. Dr. Appel has a special interest in inflammatory bowel disease (IBD) including Crohn's disease and ulcerative colitis.
In the multidisciplinary IBD program at CHOC, patients have access to a full spectrum of services including pediatric surgeons, registered dietitians, social workers, and nurse coordinators. We work together with each family to align the most up-to-date medical evidence with each patient's individual needs and priorities.
Dr. Appel received her undergraduate degree from the University of California, Los Angeles and her medical degree from the Sackler School of Medicine. She completed her pediatric residency training at Cohen Children's Medical Center in New York. Following this, she completed two sequential fellowships, first in pediatric gastroenterology, hepatology and nutrition at Children's Hospital Los Angeles and then an additional year of advanced IBD training at Cedars-Sinai Medical Center. Dr. Appel's research interests focus on therapeutic drug monitoring and precision medicine in IBD. She continues to play an active role in the North American Society of Pediatric Gastroenterology, Hepatology, and Nutrition (NASPGHAN), as well as the Crohn's & Colitis Foundation.
Keren L. Appel MD is on staff at CHOC Hospital in Orange .
Locations
CHOC Specialists, Gastroenterology
1201 W. La Veta Ave.
Orange, CA 92868
phone: 714-509-4099
fax: 855-246-2329
CHOC Specialty Center – Newport Beach
500 Superior Ave. 140
Newport Beach, CA 92663
CHOC Health Center, Corona
854 Magnolia Ave, Suite #101
Corona, CA 92879
Education
Medical School
Sackler School of Medicine, New York, NY
Pediatrics Residency
Cohen Children's Medical Center, Queens, NY
Pediatric Gastroenterology Fellowship
Children's Hospital of Los Angeles, Los Angeles, CA
Advanced Inflammatory Bowel Disease (IBD) Fellowship
Cedars-Sinai Medical Center, Los Angeles, CA
Selected Publications & Abstracts:
1. Pozdnyakova V, Botwin GJ, Sobhani K, Prostko J, Braun J, McGovern DPB, Melmed GY; CORALE-IBD study group, Appel K, Banty A, Feldman E, Ha C, Kumar R, Lee S, Rabizadeh S, et al. Decreased Antibody Responses to Ad26.COV2.S Relative to SARS-CoV-2 mRNA Vaccines in Patients with Inflammatory Bowel Disease. (2021) Gastroenterology, S0016-5085(21)03360-6. doi: 10.1053/j.gastro.2021.08.014
2. Appel KL, Ziring D, Gonzalez Y, Arora Y, Du L, McGovern DPB, Rabizadeh S. (2021). Ustekinumab Therapeutic Drug Monitoring in Pediatric Crohn's Disease and Ulcerative Colitis. Gastroenterology, 160(6):S-724-S-725. doi: 10.1016/S0016-5085(21)02443-4
3. Schumacher MA, Hsieh JJ, Liu CY, Appel KL, Waddell A, Almohazey D, Katada K, Bernard JK,Bucar EB, Gadeock S, Maselli KM, Washington MK, Grikscheit TC, Warburton D, Rosen MJ, Frey MR. Sprouty2 limits intestinal tuft and goblet cell numbers through GSK3β-mediated restriction of epithelial IL-33. (2021). Nat Commun, 12(1):836. doi:10.1038/s41467-021-21113-7
4. Appel KL, Wang L, Xi D, & Bhardwaj V. (2020). Isolated Severe Stricturing Duodenal Crohn Disease in a Pediatric Patient. JPGN Reports, 1(2). doi:10.1097/pg9.0000000000000003
5. Appel K, Chavannes M. Crohn's Disease Post-Cardiac Transplantation Following Rituximab Treatment. (2020). NASPGHAN Annual Meeting; San Diego, CA (Virtual).
6. Wang L, Appel K, Nagendra G, Bhardwaj V. Idiopathic Cause of Tight Upper Esophageal Sphincter in a Toddler. (2020). NASPGHAN Annual Meeting; San Diego, CA (Virtual).
7. Appel K, Wagner JP, Dallalzadeh S. Small Toys, Big Problem: An Ingestion of 130 Rare Earth Magnets. (2020). NASPGHAN Annual Meeting; San Diego, CA (Virtual).
8. Appel K, Wang Y, Hersch A, Li X, Zheng Y. (2018). Novel XIAP Gene Mutations Linked to Varying Presentation: From VEO-IBD to Cholestasis. NASPHGAN Annual Meeting; Hollywood, FL.
9. Suppa C, Appel KL, Schanler R. (2016). Gastric Residuals and Time to Reach Full Feedings in Extremely Preterm Infants. NASPHGAN World Congress; Montreal, Canada.
10. Appel KL, Mendez N, LaBarba S, Jongco A, Bonagura V, Sahn B. (2015). An Elevated Serum IL-10 Level leads to an IL-10 Receptor Deficiency Diagnosis in a Patient with Very-Early Onset IBD. NASPHGAN Annual Meeting; Washington, D.C.
11. Levy-Shraga Y, Appel KL, Stern K, Paret G, & Pinhas-Hamiel O. (2015). The Many Etiologies of Neonatal Hypocalcemic Seizures. Pediatric Emergency Care, 31(3), 197- 201. doi:10.1097/pec.0000000000000380
Our gastroenterologists commonly treat:
Abdominal pain
Diarrhea
Inflammatory bowel disease
Celiac disease
Constipation
Growth failure
Pancreatic disorders
Nutritional problems
Feeding problems and dysphagia
Gastroesophageal reflux
Eosinophilic esophagitis
Parenteral nutrition and enteral nutrition support
Gastrointestinal motility disorders
Liver/biliary abnormalities