Dr. John A. Guijon, Pediatric Dentistry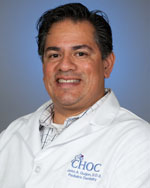 ---
John A Guijon DDS

Appointments:
714-847-2566
Specialty: Dentistry
Board Certified: Pediatric Dentistry
Additional Languages: Spanish
Dr. John Guijon is passionate about pediatric dentistry and advocating for the underserved population and children with special needs. Dr. Guijon is involved in a study addressing oral health accesses for children on the autism disorder spectrum in collaboration with The Center for Autism and Neurodevelopmental Disorders. He volunteers as a dental director for the Healthy Athletes section of the Special Olympics. Dr. Guijon has also volunteered for the Orange County Muscular Dystrophy Association and Autism Speaks.
Dr. Guijon attended UCLA School of Dentistry, where he earned his doctoral degree in dental surgery. He completed a residency training in advanced pediatric dentistry at Ostrow School of Dentistry of USC, and a residency in hospital pediatric dentistry at Miller Children's Hospital in Long Beach, California. Dr. Guijon earned certification of advanced pediatric dentistry and hospital pediatric dentistry. Dr. Guijon currently practices medicine at his private practice located in Huntington Beach, Orange County, California.
Dr. Guijon is a clinical assistant professor in the section of advanced pediatric dentistry at Ostrow School of Dentistry at USC.  He is an active member of several dental associations, including the American Dental Association, the California Dental Association, the Orange County Dental Society, the American Academy of Pediatric Dentistry, the Western Society of Pediatric Dentistry, and the California Society of Pediatric Dentistry.
Clinical Interests
Hospital pediatric dentistry, oral care for underserved and special needs children
John A Guijon DDS is on staff at CHOC Hospital in Orange .
Private Practice
18700 Main St, Suite 210
Huntington Beach, CA 92648
phone: 714-847-2566
fax: 714-841-5760
Education
Dental School
UCLA School of Dentistry, Los Angeles, CA
Pediatric Dentistry Residency
Ostrow School of Denistry of USC, Los Angeles, CA
Hospital Pediatric Dental Residency
Miller Children's Hospital, Long Beach, CA