Dr. Otto Y. Liao, Allergist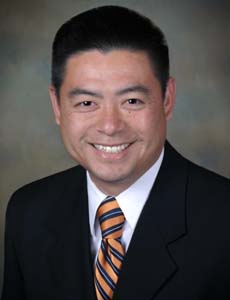 ---
Otto Y Liao MD

Appointments:
714-838-2617
Specialty: Allergy/Immunology
Board Certified: Allergy, Allergy & Immunology      
Additional Languages: Mandarin, Spanish
Dr. Liao is an allergist specializing in the treatment of allergies and asthma for children in Orange County. His clinical interests include asthma, allergic rhinitis, eczema and food allergies.
Dr. Liao received undergraduate degrees in molecular biology and history from the UCLA in 1993. He earned his medical doctorate in 1997 from the USC Keck School of Medicine, where he was a dean's scholar. Dr. Liao completed residencies in internal medicine and pediatrics at Cedars Sinai Medical Center, following in 2003 with a fellowship in allergy and immunology at UC Irvine.
Dr. Liao is board certified in allergy and immunology, pediatrics and internal medicine. He is a member of the Orange County Society of Allergy and Immunology, where he has served in many capacities including treasurer, secretary, vice president and president. He is a national lecturer and speaker on many allergy topics, and has been published in numerous professional clinical journals such as Journal of Allergy and Clinical Immunology, Pediatrics, Journal of Immunology and Annals of Allergy, Asthma and Immunology. He has offered his allergy expertise on national and local television programs. Dr. Liao has also been featured in newspaper and magazine articles covering allergy- and asthma-related topics.
In addition to his busy practice with TLC Allergy and Asthma Associates, Inc., Dr. Liao is actively involved in the community to raise awareness of allergic diseases through local school districts, Mission Hospital's asthma education, and outreach services for the underserved.
Dr. Liao has been the recipient of awards throughout his education and working career, including recognition perennially as one of Orange Coast magazine's 100 Top Doctors. His office has been recognized consistently for excellence in patient satisfaction by the medical groups they serve. Dr. Liao is married with three children and has enjoyed living in Orange County for the past 30 years.
Clinical Interests
Asthma, Allergic Rhinitis, Food Allergies, Eczema
Otto Y Liao MD is on staff at CHOC Hospital in Orange and CHOC Mission Hospital.
Locations
1101 E. Bryan Ave., Suite B
Tustin, CA 92780
714-838-2617
25401 Cabot Rd., Suite 101
Laguna Hills, CA 92653
949-269-6911
600 Corporate Dr., Suite 100
Ladera Ranch, CA 92694
949-269-6911
19582 Beach Blvd., Suite 314
Huntington Beach, CA 92648
714-847-8565
Education
Medical School
University of Southern California School of Medicine, Los Angeles, CA
Internal Medicine and Pediatric Residency
Cedars-Sinai Medical Center, Los Angeles, CA
Allergy & Immunology Fellowship
University of California, Irvine, CA