Children's Inpatient Mental Health Facilities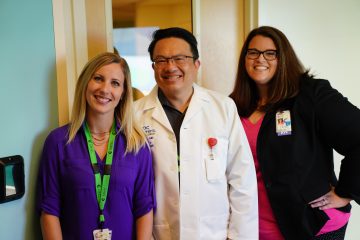 The Cherese Mari Laulhere Mental Health Inpatient Center is the first pediatric, inpatient mental health facility in Orange County for children 3 to 17 years old and is designed to meet the unique needs of kids and teens. The Center has 18 private rooms, an outdoor playground and multipurpose areas for consultation, therapy, recreation and treatment. It's also the only inpatient psychiatric facility in California where parents can stay in the rooms with their children. During your child's stay, he or she will engage in daily multidisciplinary therapeutic groups and receive individual therapy, family therapy, brief psychological testing and psychiatric care. The Center includes:
Private rooms
Consistent with best practice, each patient will have his or her own bedroom, although he or she will spend little time there except to sleep. Patients will be actively engaged in therapeutic activities for the duration of the stay, typically five to seven days.
Parent overnight stays
When appropriate, a parent can stay overnight with their child. This feature is unique in California.
Active parent engagement
CHOC staff will work with parents to develop post-discharge treatment plans and help them learn new skills to manage their children's behavior.
Mental Health Inpatient Treatments & Services at CHOC
Seven-day Mental Health Program
CHOC provides the full complete programming seven days per week. In most centers, there is little therapeutic activity on the weekends.
Multidisciplinary Mental Health Treatment
Certified child life specialists – will be available to help reduce the stress of hospitalization and provide opportunities for creativity and self-expression. In addition, art and music therapy will be offered.
Specially trained nurses and behavioral specialists – provide individual and group care.
Social workers trained in mental health – provide group, family and individual therapy, and a comprehensive discharge plan.
Psychiatrists – all have expertise with children and adolescents and provide evaluation and treatment.
Psychologists – provide brief assessments and treatment.
Sleep Studies & Other Medical Services
If assessments suggest a relationship between the mental health condition and an underlying health issue, CHOC can perform appropriate evaluations. For example, studies in CHOC's accredited Sleep Center can help to identify a correlation between a patient's depression and sleep disturbances.
Integrative Health: Holistic Medicine
CHOC has a long history of providing complementary medicine. Non-traditional but evidence-based therapies, such as mindfulness, exercise and other physical activities, will be available, as appropriate, to patients in the Center.
Stimulation & Calming Strategies
The Center design includes rooms that can provide sensory stimulation or low stimulation, depending on a patient's condition and needs; including managing stress or calming anxiety as a way of helping children learn to best manage their conditions.
Physical Fitness & Nutrition Program
Physical fitness activities will support overall wellness and will be used as a strategy to reduce anxiety and other symptoms. Weekly nutrition classes will also be offered.
Inpatient Mental Health Care Admitting Process
Initial psychometric assessments
Upon admission to the Center, patients may have a psychological screening to improve diagnosis and treatment planning.
After-care and discharge services
Hospitalization serves as a place to stabilize a potentially life-threatening crisis and keep your child safe. After hospitalization, a comprehensive after-care plan is necessary to maintain gains and to continue improvement. After-care planning begins early in the hospital stay – including connections to outpatient therapy, schools, primary medical care, support groups, parent/family assistance, and other community resources – to ensure that the patient has strong post-discharge support. When appropriate, the patient will have access to CHOC services, such as the Intensive Outpatient Program at CHOC and the co-occurring clinic. CHOC's strong community relationships will also allow for successful care planning, such as a collaboration with the County of Orange Behavioral Health Services and UC Irvine Health Psychiatry.