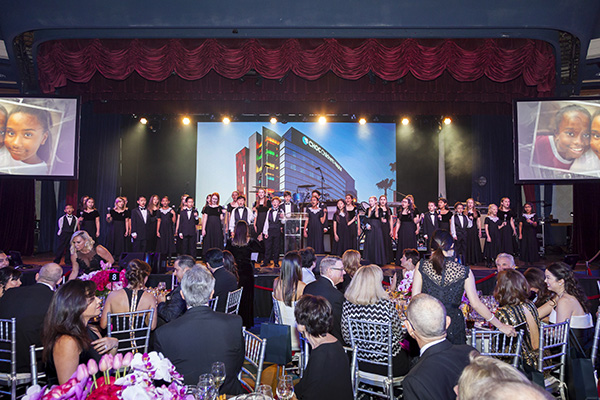 Anaheim, Calif. (Feb.12, 2018) – Hundreds of community and business leaders, as well as philanthropists rallied together at the CHOC Children's Gala to raise $2.7 million for Orange County's only pediatric healthcare system, CHOC Children's. Held on Feb. 3, at the Disneyland Resort, the gala featured exquisite food, heartwarming stories and entertainment provided by OneRepublic.
This year marked the event's 10th anniversary, "a decade of caring."  Premier sponsors were Heather and Jim Madden; international fine jeweler and watchmaker Harry Winston, Inc.; Vivien and Dan Hyman; the Disneyland Resort; and the Daftarian Group.
Two CHOC supporters were honored at the gala. The Cherese Mari Laulhere Foundation received the Children's Champion Award.  The foundation, whose mission is to provide funding and support to charitable organizations that enrich the lives of children and families, donated $5 million to endow the child life department at CHOC Children's Hospital. In recognition of the foundation's generosity and to honor the memory of Cherese, the department is named The Cherese Mari Laulhere Child Life Department.
Harry Winston, Inc. received the inaugural Chair Award for generously providing support to CHOC through sponsorships and grants.  In addition to serving as the leading sponsor of the gala for the last five years, Harry Winston, Inc. has invested in numerous hospital programs and services, including Seacrest Studios, mental health and the new neonatal intensive care unit on CHOC's Orange campus.
Following dinner, the awards presentation and the live auction, CHOC President and CEO Kimberly Chavalas Cripe (Kim) spoke briefly about the hospital's mental health inpatient center set to open in the spring. Attention then turned to grateful parents Amy and Raymond Gerace, who shared their personal CHOC experience.
The gala concluded with a performance from Grammy Award-nominated OneRepublic, The band entertained guests with music from their most recent album.
The signature event would not have been possible without the following volunteer committee members: chair Heather Madden; underwriting chairs Stephanie Argyros, Lili Daftarian and Cary Hyden; social media chairs Casey Brown and Leyla Milani Khoshbin; special event chairs Niloofar Fakhimi and Marsha Willis; auction chairs Suzy Elghanayan, Vivien Hyman and Sarah McElroy; hospitality chairs Jill Bolton and Caroline Marchant; executive committee members Stephanie Argyros, Christine Bren, Psy.D, Kathryn Cenci, Niloofar Fakhimi, Monica Furman, Leyla Milani Khoshbin, Gigi Kroll, M.D., Caroline Marchant, Marsha Willis; and event committee members Jill Bolton, Casey Brown, Lili Daftarian, Shannon Delimore, Suzy Elghanayan, Cary Hyden, Vivien Hyman, Adrienne Matros, Psy.D., Sarah McElroy, Geri Kate Pearce, Linda Pierog, F.N.P, D.N.P., Susan Samueli, Sirpa Selanne, and Terri Watkins.
Heather Madden, third-time gala chair, said, "Over the years, the CHOC Children's Gala has featured, among many things, fancy clothes, big name bands and great venues, but our focus has always been – and will always be – the children."
The gala's theme "A Decade of Caring," honored the event's 10th anniversary and its role in supporting CHOC's mission and vision. The décor featured a navy blue and silver theme with a pop of fuchsia.  The room sparkled with the help of models donning breathtaking pieces from Harry Winston.
Guests enjoyed a collection of wines courtesy of Bianchi Winery, the Alonzo Family and Total Wine & More. The after-party kept the celebration going until midnight, and was sponsored by Lili and Paul Daftarian of the Daftarian Group.
The live auction included a French Polynesian family vacation package donated by Legends; wine of two continents donated by the Gambles Family Vineyard, Silver Oak/Twomey Winery; a trip for two to Oscar De La Renta's spring 2019 show in New York; a VIP epic gaming adventure hosted by Blizzard Entertainment; and a special shopping experience at South Coast plaza with coveted accessories from Gucci, Roberto Cavalli, Marni, Ralph Lauren, Giorgio Armani, Chloe to name a few.