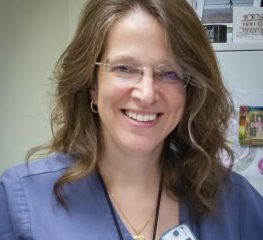 CHOC's emergency services/trauma clinical educator and registered nurse Lisa Chambers, MSN, MPS, RN, CEN, CPEN, TCRN,  has earned the 2020 Distinguished CPEN Award from the Board of Certification for Emergency Nursing (BCEN), the benchmark for board certification across the emergency nursing spectrum. The honor aims to shine a national spotlight on nurses who exemplify emergency nursing excellence in their specialties, while also inspiring other nurses to earn their specialty certifications.
"In a year when the value and impact of nurses and emergency nursing expertise are front and center on the world stage, BCEN celebrates the extraordinary and inspirational ways Lisa works to ensure CHOC's patients in the emergency department receive the best possible nursing care," said BCEN Executive Director Janie Schumaker, MBA, BSN, RN, CEN, CENP, CPHQ, FABC.
Chambers joined CHOC in February 2015 as a nurse in the Julia and George Argyros Emergency Department.  She had just completed her master's degree in nursing and had her sight set on teaching at the bedside.  Already an experienced emergency nurse, she wanted to enhance her work with children.  Two years later, Chambers became the clinical educator for the emergency department.  The role gives her opportunities to influence various aspects of care through education and training, research, evidence-based practices, and quality improvement.  She encourages and facilitates learning, while fostering an environment that celebrates scientific inquiry.
Proud of the emergency department, Lisa is quick to point out the accomplishments of her colleagues. "The entire team is dedicated to providing the highest quality care to our patients; this goal and the hospital's mission unify each one of us," explained Chambers. "That commitment also drives our staff to advance our knowledge and skills so we can be our very best for the children and families who depend on us."
Exemplifying a dedication to learning, Chambers earned her bachelor's degree in nursing from the University of Massachusetts, Dartmouth, after which she completed the "Master in Professional Studies" degree in cross-cultural communications from Alliance Theological Seminary. In 2014, she received her master's degree in nursing with a focus on education from Walden University.  Currently, she's working on obtaining a doctorate in nursing from West Coast University.
"Lisa Chambers is one of CHOC's finest. As an emergency department clinical educator, she passionately guides frontline staff in integrating knowledge, skill, and behaviors to improve nursing practice and patient care," said Melanie Patterson, DNP, MHA, RN, vice president, patient care services, and chief nursing officer, CHOC. "Lisa is a role model who promotes quality, compassion and inquisitive thinking. We applaud her for this well-deserved distinction."